Media Report on Attack on Trump Supporter, Omit That He Was Screaming Racial Slurs at the Time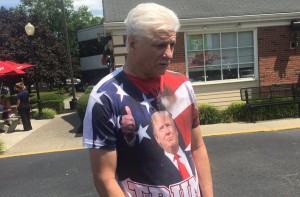 An innocent older gentleman was beaten with a crowbar for the sole crime of wearing a Donald Trump shirt last week. At least, that's the story multiple outlets are telling at least Tuesday and Wednesday, a story that's incomplete at best and completely misleading at worst.
Here, to give an example, is how Fox reported on it:
A New Jersey man was beaten with a crowbar because he was wearing a Donald Trump shirt, authorities say.

The 62-year-old male victim told police that he was walking on Bloomfield street last week when a man in an older-model, gray vehicle began to harass him about his shirt, which read "Trump for President: Make America Great Again," alongside a picture of the Republican presidential nominee.

Police said the man followed the victim to a Friendly's Restaurant and approached him in the parking lot with a crowbar in hand.
Here's the Associated Press's take (which then got picked up by other outlets):
Police say a man was assaulted with a crowbar in the parking lot of a New Jersey restaurant for wearing a Donald Trump T-shirt.

Peter Yankowski says he was walking in Bloomfield last week wearing a T-shirt featuring the Republican presidential nominee standing in front of an American flag. He says a motorist questioned him about his "Trump for President" shirt and they exchanged insults. He says a scuffle occurred soon after.

Police say Yankowski was struck with a crowbar several times and was treated at the scene. They say the motorist fled before officers arrived.
The Fox report makes the 62-year-old victim Peter Yankowski sound completely innocent. The AP report mentions an "exchange of insults," but no more. Both fall short of the complete truth.
Let's hear it from the horse's mouth, from an interview Yankowski gave local station WPIX before either story was published. Yankowski was walking down a road in Bloomfield when a man driving a gray sedan slowed down to harass him. "He called me white trash, cursed me out, gave me the finger," he told reporters.
The Trump supporter responded by taking the high road, turning the cheek, and… ha ha, just kidding, he responded with racial epithets.
"I'm not going to lie, I did," Yankowski told WPIX when asked if he called the driver, who was black, the n-word.
He then walked to a nearby Friendly's and ordered ice cream, only for the second man to walk in fifteen minutes later. According to witnesses interview by WPIX, it was Yankowski who stood up and began yelling expletives at the man, leading the second man to respond in kind.
WPIX reports only that Yankowski was screaming curses, but The Independent reports on his exact words: "He goes like, 'You're a n***er. You're not even supposed to be here. This is a white people spot.'"
The two men then decided to take their argument outside, at which point the second man produced a large steering wheel lock (which somehow became a "crowbar" in media reports) and beat Yankowski several times on the arm, before fleeing the scene.
Now to be clear, I'm not saying that beating a man with a blunt object because he called you a racial slur is justified. On the contrary, Yankowsi was well within in his rights to yell them, just like the idiot in the car was well within his rights at him in the first place.
But if you're like me (and I suspect you are) reading the full facts of the case leaves you with a much different impression than Fox, AP, and others originally presented. For one thing, the confrontation appears to have been escalated at every turn by "the victim," and "the victim" appears to be genuinely loathsome human being. I know "victim-blaming" is a big no-no, but if ever there were an instance to blame the victim, boy is this it.
For another, it seems very misleading to say the man was beaten because "he was wearing a Donald Trump shirt." That's what started the initial conversation, but it clearly moved waaaaay past that.
Lastly, virtually none of the sources I've read cover the fact that the attack came after two men agreed to step outside. Now usually when two men are in the middle of a screaming match in a public place and agree to step outside, there's an unspoken agreement about what happens next. I'll admit that using a blunt object is rather unsporting, but basically no one is asking whether Yankowski and his attacker left the store with the implicit and mutual understanding that they were going to settle their disagreement Jersey style.
I'm sure this piece won't change the minds of Trump supporters, who are already citing it as an example of how "anti-Trump rhetoric is leading to actual anti-Trump violence."  That's the real tragedy more so than getting just one story so wrong; by botching this story, a false narrative was allowed to form.
[Image via screengrab/Jim Murdoch]
——
>>Follow Alex Griswold (@HashtagGriswold) on Twitter
This is an opinion piece. The views expressed in this article are those of just the author.