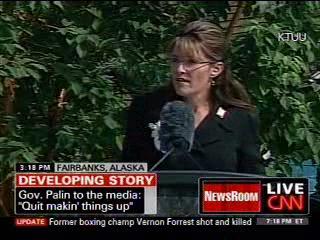 Just after 7pmET last night, Gov. Sarah Palin became just Sarah Palin – and gave one final farewell speech.
She spoke about our soldiers fighting for our freedoms, including the "freedom of speech which, as par for the course, I'm going to exercise."
And she did. She also took some parting shots at a media all too eager to masochistically take the punches.
As we've written before, Sarah Palin's feud with the media benefits all sides. The press gets a storyline-generating political polarizer who can provide endless fodder for discussion and soundbites, Palin gets a punching bag the conservative base can galvanize behind and a major platform to deliver her message.
But today, it was about suspending the current situation, for now.
Early in her speech she turned her attention to "some, just some, in the media."
"How about in honor of the American soldier, you quit making things up," she said. Later: "Our new governor has a very nice family too so leave his kids alone."
She also threw in some head-scratching lines that everyone, from her base to the media, are going to really miss with her out of office:
"You're going to see anti-hunting, anti-second amendment circuses from Hollywood and here's how they do it: they use these delicate, tiny, very talented, celebrity starlets, they use Alaska as a fundraising tool for their anti-second amendment causes."
CNN and Fox News both aired the news conference live, in full, while MSNBC stayed with their doc block (showing a Michael Jackson special at the time of the presser). But don't worry, all the cable news networks will be talking about Palin at length for the near, and likely long-term, future.
She'll be on the campaign trail for others in the GOP. She'll stay tweeting, now on her own account. And yes, she'll likely pop up in and around the "gotcha" media for a mutually beneficial interview every now and then.
Today marks the beginning of a post-Palin world in the Alaska statehouse. But the coverage of Palin as a national leader will continue, and the beef will too. We wouldn't want a little resignation to spoil the fun.
Here's her full speech:

—–
» Follow Steve Krakauer on Twitter
Have a tip we should know? [email protected]