Media Shifts Attention To Rick Santorum's 2008 Speech About Satan's Influence On U.S.
Media Shifts Attention To Santorum's 2008 Speech About Satan...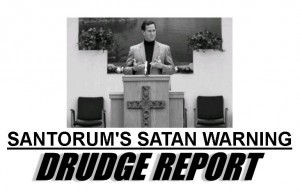 Here's a moment in recent history that you'll be hearing a lot about this week: In a 2008 speech given at Ave Maria University (a Catholic institution), current presidential hopeful Rick Santorum warned those gathered that "Satan has his sights on the United States of America."
"This is not a political war at all. This is not a cultural war at all. This is a spiritual war," he said, describing how American institutions and our nation's way of life are falling to evil forces. "And the Father of Lies has his sights on what you would think the Father of Lies, Satan, would have his sights on: a good, decent, powerful, influential country – the United States of America. If you were Satan, who would you attack in this day and age?"
RELATED: Megyn Kelly's Panel Has Some Advice For Santorum: 'Stop Writing Ads For The Obama Campaign'
Santorum went on to recount how Satan had more trouble corrupting the United States when the country was first founded, because our foundation was (and still is) very strong. But time, he added, corrodes "even the strongest of foundations." So Satan soldiers on, using "pride, vanity and sensuality" to attack American institutions. Vanity, for instance, was instrumental in attacking those in academia, in institution meant to educate "the elites."
Even other religions, he added, are not exempt from Satan's grasp. "We look at the shape of mainline Protestantism in this country," he said, "and it is in shambles. It is gone from the world of Christianity as I see it."
The NBA, rock concerts and movie screens all exhibit, he continued, the decay of American decency.
Have a listen:
On Tuesday afternoon, CNN ran a segment looking back at Santorum's speech, noting the growing role of religion in discussions about the current crop of GOP hopefuls:
The Drudge Report has taken notice: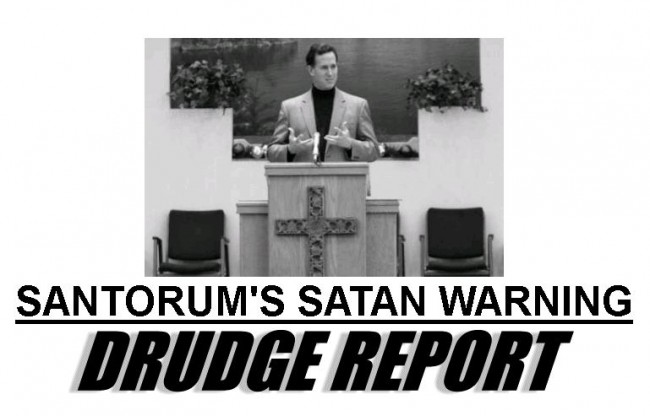 h/t mrctv.org
Have a tip we should know? tips@mediaite.com