Mediaite's Colby Hall Points Finger At Media For America's Lost Confidence In National Culture
Colby Hall Points Finger At Media For America's Lost Confidence In National Culture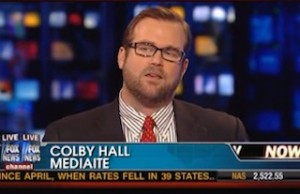 Mediaite managing editor Colby Hall paid a visit to America Live this afternoon to discuss new poll results indicating that Americans may be losing confidence in our national culture.
According to the Pew Research poll, 50 percent of survey-takers agreed that "our people are not perfect, but our culture is superior to others." Four years ago, 54 percent of Americans expressed agreement with that statement, and nine years ago, 60 percent of survey-takers agreed that American culture is superior to others. Addressing her panel of guests, host Megyn Kelly wondered whether factors like Facebook, the Kardashians and the popularity of the "Real Housewives" franchise have anything to do with the decline of Americans' confidence in our culture.
"I don't think anyone's going to look back at this time in the future and say that this was a 'golden age' of pop culture," said Hall. "We live in a time where Kim Kardashian has more Twitter followers than the President of the United States."
"And why is that?" asked Kelly. "Because she did a sex tape and she's on a reality show."
"Well, I think that there is a coarsening of American culture, but I don't think pop culture, necessarily, is to blame," Hall responded. "I think that that's always supposed to have been sort of pablum, that kind of escapism. I think the biggest issue is how that sort of black and white, sort of very simple instant gratification has bled into the political discourse."
"And, frankly," he continued, "I sort of blame the media, all of us and myself included, as sort of seeing things in very simple black and white terms," even though we live "in a gray world."
The panel also discussed whether technology — namely social media platforms like Facebook — may be playing a role in our supposedly dwindling national confidence. Jehmu Greene, co-founder of "Define American," offered an optimistic point of view. "I think the beautiful thing about American culture," she shared, "is that it is constantly evolving, it is constantly growing."
"We're living in a 'Brave New World,'" Hall added, noting that we, as a culture, aren't so focused on the idea of the future as we had been in the past because we see ourselves living in that "future time" right now.
Have a look at Hall's Fox News appearance:
Have a tip we should know? tips@mediaite.com