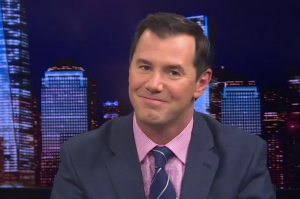 In case you weren't already aware: Mediaite contributing columnist Joe Concha has been hosting a brand-new show for Newsmax TV, called The Daily Wrap. This week we were pleased to hear that the show has been given a weeknight primetime slot of 7:00 p.m. ET.
The show is a one-hour panel setting, featuring Concha–who has appeared many times as a pundit on Fox, CNN, MSNBC, CNBC and Fox Business– as the main host alongside a left-leaning co-host, Rick Ungar, a Democratic consultant and Sirius XM radio host. The pair are joined nightly by two other panelists, typically including attorney Heather Hansen (a regular on CNN and Fox daytime) and a rotating fourth guest.
Following in the popular format of cable shows like Fox's The Five and MSNBC's The Cycle, The Daily Wrap features roundtable discussions on everything from news of the day to politics to pop culture. For example: One show this week tackled the situation in Baltimore, along with Bernie Sanders' presidential announcement, and the controversial Budweiser "Up for Whatever" slogan.
Concha tells us the show aims for a tone and banter "no different than your average happy hour," with ample disagreement but never "playing to the extremes." After all, as Concha said, "Yelling past each other is something we try to avoid because it's hard to follow and annoying to the viewer at home."
Newsmax TV is the cable arm of Newsmax Media, owned by Chris Ruddy, an enigmatic journalist who recently came into the spotlight for his full-throated defense of the Clinton family and its charitable foundation in light of allegations of impropriety. NewsmaxTV is currently in 40 million homes nationwide.
Other shows on the network include America's Forum with former Rep. J.D. Hayworth (R-AZ), Mid-Point with Emmy-winning broadcaster Ed Berliner, and the Steve Malzberg Show.
You can view several clips of The Daily Wrap below, via Newsmax TV:
— —
Have a tip we should know? tips@mediaite.com