Mediaite Editor Tells Fox News' Martha McCallum 'Terror Policy A Political Strength' For Obama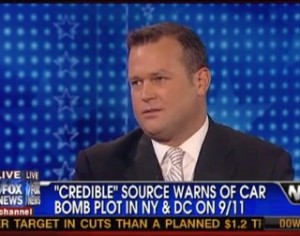 In an appearance on Fox News' America's Newsroom Friday morning, Mediaite Managing Editor Colby Hall discussed speculation surrounding the timing of a terror alert during President Obama's jobs speech last night. Anchor Martha McCallum asked Hall what he made of the suggestion that the terror alert was part of some media manipulation by The White House. Hall dismissed the premise as "unfair," and also wondered why the Obama administration has turned the War on Terror into a "real political strength," but shows no sign of running on it.


McCallum introduced the segment by recapping the reports of a "credible threat" to New York and DC that emerged during the President's speech last night, and pegged them to Shep Smith's suggestion that the White House manipulated the timing of the speech (relative to the NFL season opener) to quash any Republican response.
"What do you make of all these issues that have been raised about the timing, and why would they have done that?" McCallum asked.
Hall responded that there are fair criticisms to be made of the White House, "but this isn't one of them."
"This was his big moment," Hall observed, and the terror alert "stepped on" the post-speech political analysis. "Oddly, terror is a good issue for this president."
"In the past ten years, the GOP had very successfully used the War on Terror…as a really strong political point, and (the Obama) administration, with the drone attacks, the capture and killing of bin Laden," Hall explained, "they have taken terror policy, and made it a strength, but for reasons that aren't clear to a lot of media people, have chosen not to make that a political football."
McCallum asked if that strength could cut in favor of the administration feeling that it would be a "strong position for the President to be overseeing this possible threat," calling it a "possibility as to why they would have liked the timing and the order of things as they laid out last night."
Colby pointed out that, throughout the Bush administration, there were accusations of politicized terror alerts. "I thought that was unfair then, and I think it's still unfair here. Obama had his moment stepped on, and this terror alert came three, two days before the ten year anniversary of 9/11. If this were to happen in March, that's a legitimate question."
"I think it's a real threat," he continued, "and the timing was probably an accident that the White House regrets, but also, there is some slight benefit to their political agenda."
Here's the clip, from Fox News' America's Newsroom:
Have a tip we should know? tips@mediaite.com