Mediaite Exclusive: CNN's Jake Tapper On How His Political Agnosticism Has Defined The Lead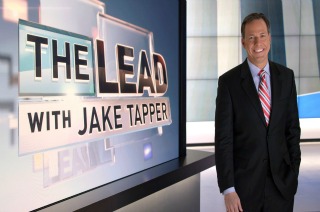 CNN launched The Lead with Jake Tapper just two months ago, but the program has already carved out an important niche as a staple element of a well-rounded cable news diet. Tapper recently sat down with Mediaite to talk about his career and the future of The Lead. He talked about how his program has evolved over time, his take on the nature of journalism, and how he has maintained the bipartisan plaudits his reporting regularly receives.

On April 15, 2013, two explosive devices detonated in the middle of a crowd watching the Boston Marathon. This atrocity may be looked back on as a turning point in how the United States conducts the war on terror, but it will almost certainly be viewed as a turning point for The Lead.
"We had a whole show planned with sports, pop, and money leads, and the explosion was at 2:50 [p.m. EDT] so, with the exception of [former Democratic Rep.] Jane Harman who we had booked to talk about North Korea, everything went out the window," Tapper told Mediaite. "It was obviously a horrific story and a challenging one to cover but, journalistically, it was exciting to be part of the coverage."
Tapper recalls how CNN quickly established a presence in Boston following the attacks and was the first network to go live early on the morning on Friday, April 19, when the Tsarnaev brothers engaged in a shootout with police in Watertown, Mass. "I have never had an experience like that before," Tapper said.
RELATED: Jake Tapper Digs Into Gruesome Details Of Kermit Gosnell Case With Philadelphia Inquirer Reporter
In the two months since the show launched, it has become clear that Tapper has been able to translate the bipartisan praise he received as ABC News' senior White House correspondent to his work on The Lead. He has managed to walk the tightrope of impartiality in his reporting as a host just as he did when he was questioning the President of the United States and his advisors from his seat in the James Brady Briefing Room.
Tapper says that he has earned the trust of both conservative and liberal viewers by striving to remain as "agnostic as possible politically."
"I really try to find things that are new, interesting and under-covered – underreported," Tapper said. "I think drones, Benghazi are legitimate stories. I think asking questions about reading Tsarnaev his rights and mirandizing him are legitimate questions to ask. I think coverage of [Kermit] Gosnell in Philadelphia is legitimate and interesting."
"It's gratifying to be praised by people on the right and the left in this media environment, but the truth of the matter is that even if they were criticizing me, I'd be doing the same show," Tapper asserted.
"That's just, before I became a journalist, the kind of news consumer I was. So, that's the kind of anchor and reporter I am as well," he related. "I don't understand people who only want to hear one point of view in their journalism. It doesn't make sense to me. I know there are people like that, I hear from them on Twitter, but I don't know why people wouldn't want to have their assumptions challenged."
RELATED: Stephen Colbert Gives Jake Tapper Advice On His CNN Debut: 'Don't Get Sucked Up In That Whole News Thing'
The Lead has established a history of coaxing news-making quotes out of both political and nonpolitical individuals. Tapper made headlines when late night host Jimmy Kimmel fired off a backhanded remark about his competitor, Jay Leno. Tapper also got Mad Men creator Matthew Weiner to open up about his show's controversial use of Mitt Romney's father, former Michigan Gov. George Romney, as a plot element during a heated election year.
When asked how he prepares to get these individuals, who may be unaccustomed to a grilling from a seasoned journalist, to open up, Tapper replied that he feels them out "in the moment."
"One of the great thrills of being a journalist is getting to ask people questions you don't see them being asked," he noted.
Among others, Mediaite's initial review of the program after just two episodes observed that the entertainment portion of The Lead, a subject traditionally not covered by political reporters like Tapper, felt "forced." The sheer volume of news Tapper has produced during his interviews with figures in the entertainment industry dispels that notion.
Tapper says he and his staff internalized the early criticisms of the program and many aspects of the show have evolved since its debut. "What we want is something on NPR, or The Weekly Standard, or the art section of the New York Times – smart cultural coverage," he explained.
Tapper related an anecdote in which he said that Fox News Channel host Greta Van Susteren told him that he would not recognize his own show in six months. "We're still feeling stuff out," he confided. "Maybe early on, there was such an eagerness to establish that we covered things other than politics that we didn't cover enough politics." Tapper says he plans to cover politics more in the future.
Tapper also said he intends to make an effort to report more and not simply anchor. "Those are completely different jobs as I've discovered," he said.
On The Lead's first episode, Tapper was advised by Comedy Central host Stephen Colbert to "not get sucked up in that whole news thing." When asked if he took that advice to heart, Tapper said that he thinks it may be easier to abide by that maxim on a comedy network, but he note that he agreed with the philosophy.
"I think he meant, do the stories that interest you and make sure to do the stories that interest you," Tapper said. "Our task has been from the beginning to do the best show you can do. Be as newsy as possible. I think that we're in a good place right now."
Tapper cautioned that, in spite of his and his show's far-reaching success, "it's only been two months."
> >Follow Noah Rothman (@NoahCRothman) on Twitter
Have a tip we should know? tips@mediaite.com