Mediaite Founder Dan Abrams Battles Mediaite Columnist John Ziegler Over Philando Castile Coverage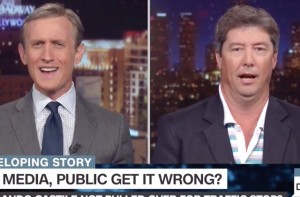 If you're a regular Mediaite reader, you know that we feature writers with vastly different opinions, and we have publicly disagreed with each other from time to time.
Yesterday, one of our columnists, John Ziegler wrote a column for Mediaite arguing that the media bought a completely false narrative in the police shooting of Philando Castile, given the reporting that Castile apparently matched the description of an armed robbery suspect.
Ziegler wrote, "Regardless of how much the news media will try to ignore it, in Minnesota we are seeing all the markings of a largely false narrative that may very well not hold up under reasonable inspection."
Well, Mediaite founder Dan Abrams guest-hosted Dr. Drew's HLN show tonight, and he invited Ziegler on as a guest. And things got a bit heated.
Zielger insisted the media showed a serious "rush to judgment" and whenever there's a case involving race or rape, the media always jumps to conclusions. He brought up how Castile's girlfriend said two different things in two different statements.
Abrams shot back, "You seem upset that the media was even reporting what [she] said on the Facebook video… Why is that the media's fault?"
The fought back and forth and Ziegler said they should "get out of the fairy tale world." Abrams said whatever reason the cop had to pull Castile over, "that really doesn't matter" given the shooting right afterwards.
In the next segment, the rest of the panelists really got on Ziegler's case and scolded him, with psychologist Spirit calling him "disrespectful" and flippant.
Ziegler brought up Ferguson and how "Hands Up Don't Shoot" was a lie. Abrams asked him how that's relevant to point to another situation and say "some black people got it wrong" then.
Watch both segments above, via HLN.
[image via screengrab]
— —
Follow Josh Feldman on Twitter: @feldmaniac
Have a tip we should know? [email protected]
---
Josh Feldman - Senior Editor