Mediaite Historical Society Presents: Rick Sanchez Mourns Lima The Zebra With Salsa Music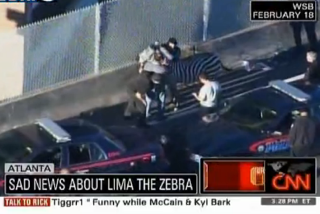 Here at Mediaite, we believe we have a responsibility of passing down our colorful history to the next generation. We do it for the children. So as we approach the second anniversary of our founding, we will be regularly taking a look back at the moments that made us laugh, cry, and throw things at our television set– but probably just made us roll our eyes at the time. Herein is the first installment of Mediaite Historical Society Presents:
A long, long time ago, in March 2010, CNN used to air a program they called Rick's List, hosted by Rick Sanchez, whose career was completely derailed by a prickly appearance on the radio that resulted in his freefall into obscurity. That was a shame, since Rick's List routinely provided the sort of pop culture "news you can use" infotainment that media blogger dreams are made of. Take, for instance, this segment celebrating the life of Lima the Zebra, a Zebra who longed for freedom and only acquired it from the Ringling Brothers' Circus for less than an hour before being put down. Lima hurt himself so much running around Atlanta that he had to be euthanized.
This touched Sanchez so much he dedicated his "Las Fotos Del Día" to Lima, a segment typically showing the day's most absurd images to some upbeat salsa music. "It tasted freedom for about 40 minutes," Sanchez reported with gravitas. "There's sad news to report. Veterinarians had to put the zebra down today. That's right, they had to kill the zebra." If Federico Fellini directed his own cable news program, it would consist of segments like this.
Relive the life and times of Rick Sanchez Lima the Zebra below:

Have a tip we should know? [email protected]