Mediaite Historical Society Presents: 'Stephen Colbert' Meets His Idol Bill O'Reilly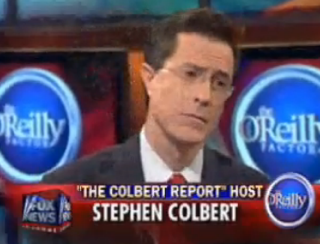 Here at Mediaite, we believe we have a responsibility of passing down our colorful history to the next generation. We do it for the children. So as we approach the second anniversary of our founding, we will be regularly taking a look back at the moments that made us laugh, cry, and throw things at our television set– but probably just made us roll our eyes at the time. Herein is the fifth installment of Mediaite Historical Society Presents:
Nowadays, Stephen Colbert is a larger than life conservative caricature that releases rock albums, interviews legendary filmmakers, and sets ups super PACs. But back before Stephen Colbert was Stephen Colbert, Stephen Colbert was mid-aughts Bill O'Reilly. And after years of nightly adoration for "Papa Bear," Colbert finally made it onto the show that provided the template for his post-Daily Show commentary program.
Colbert's first voyage into the No-Spin Zone appeared to leave a very amused Bill O'Reilly somewhat perplexed, as he asked his semi-alter ego hardball questions like "Colbert– is that a French name?" and "is it hard to be you?" Of the former, Colbert answers that he changed his Irish name "to get the cultural elites on my side;" of the former, he says "it's hard for me to be you." The interview goes on to delve into the nuances of imitation vs. emulation ("if you imitate them, you owe them a royalty check"), O'Reilly's target audience and "message of peace and love," and just how much marijuana Jon Stewart's fans consume.
The classic interview via Fox News below:

Have a tip we should know? tips@mediaite.com