Mediaite Historical Society: Tim Pawlenty Sends His Regards To Alan Colmes' Wife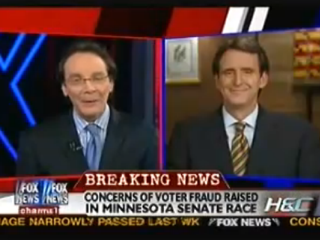 Here at Mediaite, we believe we have a responsibility of passing down our colorful history to the next generation. We do it for the children. So as we approach the second anniversary of our founding, we will be regularly taking a look back at the moments that made us laugh, cry, and throw things at our television set– but probably just made us roll our eyes at the time. Herein is the seventh installment of Mediaite Historical Society Presents:
Tim Pawlenty as 2011 has come to know him is a pretty even-tempered guy: that is to say, about as milquetoast as they come. But he has shown a sense of humor, drawling out Tiger Woods jokes and enthusiastically (well, enthusiastically for Tim Pawlenty) gushing about Lady Gaga's oeuvre. Perhaps the national spotlight has kept his sense of humor in check, or the heightened sensory ability of the 24/7, Twitter-driven news cycle to catch off-color jokes has warded him off them, because he was delivering punchline after awkward punchline to Hannity & Colmes in 2008.
In November 2008, Pawlenty appeared on the program to discuss allegations of voter fraud in his home state of Minnesota. After a serious discussion with host Sean Hannity, he appeared not to be able to help himself when addressed by Alan Colmes. Apropos of nothing, really, Pawlenty thanks him for inviting him to the program and adds, "by the way, when you see your wife, tell her that I said thank you for staying with you."
The deadpan with which it was delivered seem to catch Colmes by surprised, as he responded, "I'm not quite sure what that means; maybe you're just trying to get her vote in 2012." Meanwhile, Hannity is having a ball off-camera, declaring it "the line of the year." That gives Colmes enough time to quip back, "Believe me, I'll thank her a lot more than you will."
Unfortunately, at some point this conversation has to veer into an actual political topic, but that doesn't stop Pawlenty from delivering one last cringeworthy joke– calling the host of the program he was invited to "Sherlock Colmes."
The segment via Fox News below:

Have a tip we should know? tips@mediaite.com