Mediaite In The Control Room: Q&A With Bill Wolff, Exec. Producer Of The Rachel Maddow Show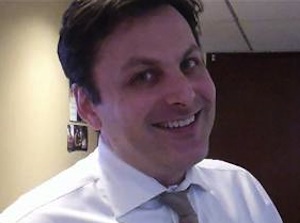 A famous media Wiz once said "Pay no attention to the man behind the curtain," but we believe that what happens behind the TV screen is important to understanding what ends up on it. In today's inaugural installment of Mediaite In the Control Room, we bring you the insights of Bill Wolff, the Executive Producer of MSNBC's The Rachel Maddow Show, as he talks about what makes the show tick, and where it fits in the cable news landscape.
In addition to being TRMS's Executive Producer, Bill Wolff is also Vice President, Primetime Programming, for MSNBC. He came to the network in 2005 to handle the "other" Situation, the one with Tucker Carlson, following stints with Fox Sports Network and ESPN, where he created Around the Horn. Before that, Wolff spent several years writing screenplays for Dimension Films and Dreamworks, including the 2005 Martin Lawrence vehicle Rebound.
A St. Louis native and Harvard College graduate, Wolff cut his teeth as an intern at NBC affiliate KSDK, and later, as a production assistant, associate producer, and Los Angeles Bureau Producer for ESPN on shows like Sportscenter, Outside the Lines, and NFL Countdown.
In addition to his executive producing duties, Wolff has also filled in for host Rachel Maddow, and contributes web-only video segments for the show. The Rachel Maddow Show airs Mon-Fri at 9pm EDT on MSNBC.
In our exclusive interview, Bill Wolff talks about The Rachel Maddow Show's strengths, their position in the cable news landscape, and the dividing line between "opinion" media and hard news.
Mediaite: What would you say is TRMS's mission statement?
Bill Wolff: We're not big on mission statements, I'll confess, but, pressed to come up with one, I'd say: TRMS seeks every night to increase the amount of useful information in the world and to enunciate accurate, original narratives based solely on that information.
Q: How do you avoid falling into a trap of trying not to feel redundant, and coming up with new things?
BW: It is a challenge not to repeat one's self for anybody who's doing a show every day. One thing that helps is that the news is always changing in unexpected ways. Another advantage we have is Rachel's analysis, which is exceptional.
Q: How important a role does humor play on your show?
BW: Working the sort of hours we work on the sorts of subjects we report, humor is critical to getting through every day.
Q: I've been a fan of Rachel's since day 1 at Air America, and so I recognize much of TRMS tone and cadence to be distinctly Maddowian. What's the Bill Wolff imprint on the show?
BW: We don't take our good fortune for granted, and that's the frame of mind we try to maintain as a group. If we truly enjoy what we're doing and have fun while we're doing it, the show will reflect that, and that will be a positive thing.
It's also critical to have great players up and down a team's line-up, and we've tried to assemble and develop a group of great producers who understand the show's tone and sensibility and who work well together. We have a staff that makes Rachel and me incredibly proud and grateful
every day. They're all smart as hell, selfless and motivated and conscientious, well-informed, and great to be around.
Q: Lawrence O'Donnell compared Countdown to a series of op-ed pieces. TRMS seems more like a political essay that unfolds over the course of the week, or longer. Is that conscious, and is it a tough format to stick to in the age of bite-size news?
BW: Our show's best asset – the thing that gives us competitive advantage in the marketplace – is Rachel's analytic ability. There are very, very few people in any medium with her skills. Thus, the format of the show is devised to capitalize on that advantage by highlighting and amplifying the things Rachel does better than anybody else.
Q: You recently were quoted as saying that MSNBC has no partisan agenda, but that seems to run counter to both public percetption and comments made by Phil Griffin who said of MSNBC's shift in strategy , "It was more organic than a conscious strategy to go left," concluding "a vision of smart progressives just began to emerge." Can you clarify your comments?
BW: I was confronted with the statement by an interviewer that MSNBC has "an agenda." I said that wasn't true. My understanding of an "agenda" is that it means an enunciated set of political goals to achieve. We don't have that or anything like it.
Q: Do you think TRMS is in striking distance of Hannity, ratings-wise, and how soon do you think you might overtake them?
BW: Some nights we're pretty close, other nights we're not as close. Fox News deserves a ton of respect for their commercial success.
Q: I've noticed the show taking more frequent shots at Fox News, particularly Megyn Kelly. Is that part of a strategy to challenge Fox directly, a coincidence, or just my imagination?
BW: Not part of a strategy. We address things that happen in the news, and other networks and their people only become part of what we do when what they do becomes part of the news.
Q: What do you make of the distinction, often raised by Fox News, between hard news and opinion programming? Do you feel that separation at MSNBC, and is there a difference in standards between the two "breeds?"
BW: There really isn't a difference in the standards of accuracy. Hard news and opinion/analysis are both required to have all of the information verified and accurate. Factual errors bear correction in all cases. The fundamental commodity in any news enterprise is credibility, and that axiom applies across the board in every format.
Q: At the last two CPACs, many prominent conservative media figures and politicians have told me, privately, that they really like Rachel, and enjoy TRMS. Does this surprise you, and to what do you attribute this secret admiration?
BW: It's nice to hear. I think it reflects what Rachel puts out there. We, as a show, work really, really hard to make sure we've got the facts straight, and Rachel is devoted to being fair.
Q: In your feudlet with Politicfact, you made several valid points about mistakes they made on your Wisconsin budget coverage. One thing they failed to mention is that TRMS claimed that Wisconsin had both a surplus and a deficit, simultaneously. Isn't that impossible?
BW: It is impossible to have a deficit and a surplus simultaneously. However, it is possible to have a current surplus but be facing liabilities which project that your budget will have a deficit moving forward.
Q: Do you think Keith Olbermann's Current TV show could establish a programming bloc that would cannibalize your audience?
BW: Our goal remains the same – focus on being awesome at what we're doing.
Have a tip we should know? tips@mediaite.com