Mediaite Insider's Story: How CNN's Dana Bash Landed First Post-Filibuster Interview With Rand Paul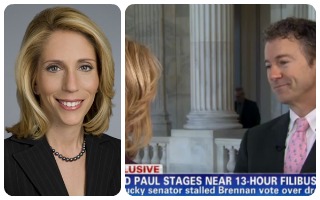 They say you make your own luck. Dogged reporting may be only half the story behind journalism's biggest scoops – being in the right place at the right time is often times the other half. CNN's Dana Bash has her share of accomplishments that have resulted from untiring pursuit of journalism, but she is not shy about crediting fortune with her success as a reporter as well. When Bash was asked how she landed one of the first interviews with Sen. Rand Paul (R-KY) on Thursday after his news-making filibuster, she says that being in the right place had a lot to do with it.

RELATED: 'Calm Down, Senator': Wall Street Journal Slams Rand Paul's Filibuster 'Stunt' Lacking 'Serious' Argument
"We do our live shots, for the most part, from the Russell Office Building in the Russell Rotunda," Bash told Mediaite. "I was coming down into the basement of the Russell Building, and I was going to catch a subway to the Capitol, and who did I see there? Rand Paul."
"So, I walked up to him and I said 'hi, how are you feeling?' He said, 'I'm feeling good. A little tired, but good,'" Bash continued. She says that Paul's press secretary, Moira Bagley, was not by Paul's side at that particular moment, and when Bash asked if he had some time to do a quick live shot upstairs, he replied that he had 20 free minutes and accompanied her upstairs.
"He was very gracious," Bash added. "What was most interesting, because I just saw him in the hallway, I had nothing prepared. I happened to have the [Wall Street Journal] editorial up on my phone, so I had it in my hand and was ready."
Bash, CNN's chief congressional correspondent who was recently awarded her third Everett McKinley Dirksen Award for distinguished reporting of Congress, was the first to get Paul's reaction to a scathing WSJ editorial which admonished Paul for mounting a filibuster over the issue of hypothetical domestic drone strikes on American citizens.
"The Wall Street Journal is right on a lot of issues and they're wrong on this issue," Paul told Bash. "With every fiber of my body, I believe that is unjust and unconstitutional. If you're an American on our soil, people can't just accuse you and call you a name. They're just assuming the person calling your name is omniscient and knows you're guilty of that."
Bash was also the first reporter to get Paul to concede that he would allow a vote to confirm John Brennan as the next CIA Director later that day:
We'll hold it as soon as people want to now. Really, the whole thing is not just to be spiteful to hold up things. Sometimes people get the misimpression that, oh, you're doing things just because you don't like the president. I've actually voted for several of the president's nominees.
Brennan was confirmed by the Senate on Thursday by a 63 to 34 vote margin.
"That's a lot of what we do," Bash told Mediaite. "That's why I love this beat so much. You can walk the hallways and you bump into senators and their staffers all the time. The challenge is getting someone from where they are to where they get on camera."
As for the political implications of Paul's filibuster and the information he was able to get out of the Obama administration as a result of it, Bash says that more actions like Paul's are likely in the future.
"For better or worse, this is how the system is set up," she said. Bash noted that Sens. Lindsey Graham (R-SC) and Kelly Ayotte (R-NH) used similar tactics to compel the White House to be more forthcoming about the September 11, 2012, attack on an American consulate in Benghazi. "It's a senator understanding the rules of the Senate and understanding that power that we've seen here."
When asked about the frustration with Paul that Sens. Graham and John McCain (R-AZ) expressed on the Senate floor on Thursday, Bash said she did not think that Paul was especially concerned with how his fellow GOP senators reacted to his filibuster.
"I can't imagine he wants to advance in the Senate," Bash observed. "He wanted to come here and use the power that he has to do this kind of thing."
"His aspirations are not the Senate – it is 2016 politics and making good with the conservative base," Bash continued. She says that Paul accomplished his mission and more, if evidenced only by the flood of conservative Senators that made their way to the upper chamber of Congress after late Wednesday night in order to express their support for Paul's filibuster.
"The fact that [Sen. Mitch] McConnell (R-KY), Paul's senior senator up for reelection next year, made a point of going to the floor to talk about his courage on an issue — that he didn't talk about all day long — only after the conservative twitterverse blew up, was telling," she said.
> >Follow Noah Rothman (@NoahCRothman) on Twitter
This is an opinion piece. The views expressed in this article are those of just the author.