Mediaite Interview: Scarborough and Brzezinski on Who They're Really Looking to Impress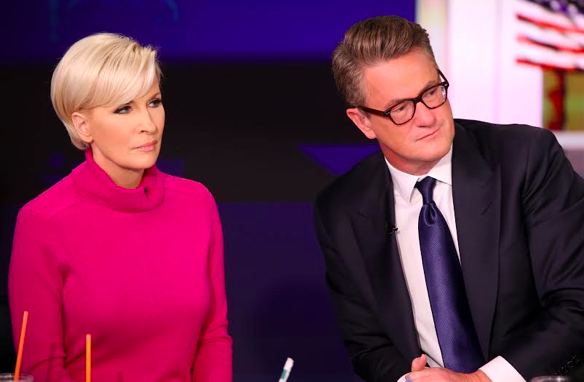 Two days before Thanksgiving I stood just off-camera in the main studio of MSNBC's Morning Joe. Behind me rows of NBC employees typed furiously away, the ones you see in the background of studio shots and always wonder about. I was struck most by how quiet the on-set conversation of the Morning Joe panel was even just feet away despite the vibrancy I've long equated with the venerable cable news fixture.
There in the 8 a.m. hour,  the conversation swayed from Trump to foreign policy; author Peggy Noonan sat at the end of the table, feet away from Morning Joe favorite Mike Barnicle; Huffington Post's Sam Stein appeared on that morning's episode as well, and off camera next to me I recognized BBC's Katty Kay. These four anchors, writers, and contributors are a percentage of the larger revolving door of on-camera media influencers many have grown to recognize from countless Morning Joe appearances.
My introduction to the show's hosts Mika Brzezinski and Joe Scarborough came moments after the last live shot of the episode; just as soon as I forgot whether I was supposed to use the honorific "Congressman" to address Scarborough, he extended his hand and simply said "Joe".
That casual informality on the set of Morning Joe is palpable; first names, laughs, and extensions of appreciation for the crew seem common place for the show #1 in its time slot at least amongst the media elite in Manhattan and the Beltway. As I settled in to the greenroom with Brzezinski and Scarborough for our interview, I was still largely taking in the amiable energy; abruptly, I experienced firsthand the one-two punch that defines Morning Joe's success when the wall-mounted television in the greenroom began to ring out with Billy Joel's "You May Be Right". After Scarborough tactfully fumbled with the remote for a moment, Brzezinski stood up, marched over to the TV, and yanked the cord clean from the wall. No more distractions, no more games.
*      *      *
"We don't do formulas," says Scarborough, describing the critical elements of Morning Joe, "it's one of the reason influencers still show up." Undoubtedly, since its debut in 2007, the show has created a unique niche with the movers and shakers who seem to matter most.
Somehow Scarborough, the former GOP Congressman from Florida, anchors the buzziest show on what is widely considered the most liberal of cable news networks. Still, his voice on the show is unwavering and unapologetic, "If you've written a column and you want the most important people to read that column, you come on our show. If you've written a book, it's the same thing. Publishers say we move a lot of books; people who watch this show read books. And it's the same thing with magazine articles, movies even."
An average weekday morning watching Morning Joe usually features a dizzying display of authors, Presidential candidates, columnists, and commentators. "[They] want to reach the people that actually shape opinion," Scarborough continues to me.
Aside from a large company of media darlings in contention for regular on-air appearances, there was a more recent Morning Joe guest that seemed to speak volumes about the gravitas of the show. I ask the duo why Defense Secretary Ash Carter would grant his first interview after the deadly Paris attacks with Brzezinski and Scarborough from within the Pentagon walls. The nation was still considerably shaken over the events and hearing from Carter directly in the aftermath was as close to the heart of the matter as cameras could capture. After all, the show's national viewership can't compare to that of network morning shows or even Fox News. So why did our nation's Defense Secretary opt for Morning Joe over other non-MSNBC alternatives?
Scarborough offers, "Same reason that Donald Trump calls in, does a town hall up in New Hampshire. Same reason John Kasich and other candidates want to do it, and the reason that Hillary Clinton will do it in the end: the influencers watch this show."
And they do. To date, Morning Joe remains #1 in the 25-54 demo in New York City and Washington, DC, comfortably above both Fox News and CNN.
*      *      *
Sitting in the greenroom with the now-unplugged television, we are briefly interrupted when Sam Stein enters to retrieve his jacket from the hooks above my head. Immediately and effortlessly, the jokes and soft jabs fly from the mouths of the Morning Joe hosts. As sharp as she appears on-air, Brzezinski teases, "Is your internship done? Want me to write you a recommendation?".
Stein takes it in stride, laughing along. "Yes, I would love that," he says.
Brzezinski's contributions to the landscape far exceed the three hours of air time Monday through Friday. Her 'Know Your Value' platform has spurred a bestselling book and a live series aimed at empowering female leaders and entrepreneurs. She tells me firmly, "We say exactly what is on the edge of our tongues," continuing, "But there's also a real sense of family on the show, like 'I want to be a part of that group of people'. You like everybody and you know them — Barnicle, Willie [Geist], Joe…"
---
To date, Morning Joe remains #1 in the 25-54 demo in New York City and Washington, DC, comfortably above both Fox News and CNN.
---
Joe hops in, "…or, even if you don't like everybody! 'Joe's a big mouth and he talks too much'. You can count on Mika to roll her eyes."
Brzezinski smiles proudly at the description from her partner. "The world's greatest facial expressionist," she describes herself.
The minds behind Morning Joe have tried and tested a variety of approaches; they reveal to me that at one point in the show's history, they tried to come in to the studio an hour early and "prepare" segments and talking points. Ultimately attempts at planning or staging felt forced, and were abandoned for the current model: "I get here five minutes before the show," admits Scarborough.
"We have in our cast clearly high-level intellects," says Brzezinski. They tell me about how the show operates without safety nets; there are no teleprompters, no scripts to carefully follow, no point-by-point discussion to cover in its entirety in any given block of the show before moving on. "It has a freshness to it even if we are totally exhausted. And it has a bit of riskiness to it that I think the viewer's along for the ride for."
Scarborough concedes, "There's a great example of why this really works. Mika last week was leading into this Hillary Clinton faux-pas where she had laughed at a guy who said he had wanted to strangle Carly Fiorina. [Mika] runs the clip and then she comes out of the clip and goes, 'Oh wait, that's not that bad.' We found that if we look at the stuff at the same time that our viewers are looking at the stuff, we all collectively come to an opinion at the same time."
Brzezinski and Scarborough pride themselves on the in-the-moment impromptu nature of their delivery and substance. They watch political ads that make headlines for the first time live on the air; their reactions that you see on-camera are authentic and unscripted. Clips that ultimately make waves or earn praise across the Beltway seem to first fall on jury, judge, and executioner in the form of the Morning Joe gauntlet.
*      *      *
"Because he's really smart!" exclaims Brzezinski when I ask why Republican candidate and New Jersey Governor Chris Christie does so many Morning Joe appearances. After all, it would seem counterintuitive for a GOP candidate to so highly value televised real estate on MSNBC.
On the issue of Christie — who the Morning Joe crew covered for an exclusive town hall in New Hampshire just this morning — Scarborough seems to have identified why the fit makes sense. "He's really good off-the-cuff," Scarborough says before continuing, "He can give as much as he can take. If you're intelligent, if you're tough, if you can keep up, not knowing where the next question is going to come from, then you're gonna do very well on the show."
The angle of party politics seems to mean less on this show than nearly all others in the cable news chatterdome. While Brzezinski has been open about the fact that she would like to see a Democratic candidate win the White House in 2016, Scarborough still self-identifies as a Republican. But that distinction leaves a healthy heaping of grey area between the two hosts whose focus seems to be on firm but fair interviews and challenging any — regardless of party — who are deserving of rebuke.
So what about Hillary Clinton and her noticeable absence from the Morning Joe set this election cycle? While the consensus seemed to be that the Democratic frontrunner would, in time, make an appearance on the show (her town hall last month was instead primed by the NBC Today Show), Brzezinski shoots out, "We don't play games. So candidates come on our show because they really like being on our show. But they know they're gonna get it all."
Brzezinski says, "Carly Fiorina had a horrendous experience with me and came back for more, and I have great respect for that."
"It was a slugfest," Scarborough fondly contributed.
"We had a rough interview," Brzezinski continues telling me on her back-and-forth with Fiorina. "And not only did she come back again and again on our show, she came back and got in Joe's face and poked him in the chest and said 'Stop underestimating me!'. And this was right before the first debate and we were like 'Oh, we've been underestimating her'.
The duo seem to admit that their pace of production and execution does not naturally suit all candidates ("…they get twisted up every time they go on a traditional news show that will ask three or four or five questions"). But for those capable of hanging in, the unique energy behind Morning Joe can even allow for unexpected traits in candidates to rise to the surface if allowed to properly develop. "The format helps people like Jeb Bush," Scarborough admits to me; I push for details. "I think his people were very concerned about him coming on the show," Scarborough continues. "And then he came on and everybody associated with Jeb says it's his best performance of the entire campaign — because he got fifteen minutes to show just how smart he is and just how policy-driven his campaign is."
*      *      *
The topic of President Barack Obama came up once during my interview; it would seem that Scarborough and Brzezinski, who mentioned that they've met the President on a handful of occasions, are primetime players in minds of the administration. "Joe could not be more critical of President Obama at different times over the past eight years," Brzezinski tells me.
---
"And not only did [Carly Fiorina] come back again and again on our show, she came back and got in Joe's face and poked him in the chest and said 'Stop underestimating me!'.
---
"And also you know the President himself — sure, he doesn't appreciate the show — but his administration understands the importance of it. They all watch it," Scarborough stresses to me. "I just say that because the four or five times I've talked to the President the first thing out of his mouth is—"
"—I don't watch your show," Brzezinski quickly finishes with a small laugh. Scarborough agrees. "That, and 'Tell Mike Barnicle I say hi.'"
Speaking to the frequency of Obama administration officials like David Axelrod and Valerie Jarrett appearing on the show, Brzezinski says simply, "[They] understand the value of the conversation."
*      *      *
My interview last Tuesday with Brzezinski and Scarborough touched on a range of topics, including the production risks of the show and everything that Ted Cruz was doing right. But if there were one guidepost planted firmly in the ground for the cohosts of Morning Joe to shoot for every day — one presumed focus  — it comes in the form of the first decision ever made by the duo about the show.
"We agreed that we would have an audience of one, and that would be Tim Russert," says Scarborough. The respect for the late Meet The Press host was visible as both Scarborough and Brzezinski spoke. And here years later, these two have never forgotten that original goal of the broadcast: "If we covered a story that would make Tim Russert roll his eyes and turn off the TV set and walk out of the room, we weren't going to do the story. And that was a great way to start."
Mika Brzezinski and Joe Scarborough image provided by MSNBC.
—
J.D. Durkin is the Senior Editor of Mediaite. Follow him on Twitter @MediaiteJD.
This is an opinion piece. The views expressed in this article are those of just the author.