Mediaite Interview: Tucker Carlson Slams Ed Schultz And CNN, Feels Bad For Keith Olbermann, Praises MSNBC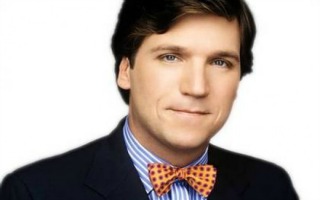 He may be best known these days for his pioneering enterprise, The Daily Caller, but his decades gracing the lineups of both MSNBC and CNN leave Tucker Carlson uniquely qualified to comment on the state of cable news. Mediaite caught up with Carlson over the weekend and sought his thoughts on the state of cable and online journalism. Carlson had some surprising praise for MSNBC and even faint praise for its former anchor, Keith Olbermann, though he had mixed things to say about Olbermann's successors. Carlson was far less complimentary towards CNN, however, which he says should take a page from MSNBC's playbook and be more honest about what he believes is their agenda.

In fact,, Carlson warned MSNBC against toning down their pro-Democratic editorial voice down in President Barack Obama's second term as some have suggested. Carlson lauded the network for being honest about its mission, and said that their success in recent years is testament to the goodwill honesty yields.
"They are straightforward about their political agenda; it's a full-throated, hair-on-fire liberalism," Carlson said of "the Leon Trotsky channel."
"What's more insidious is a network like CNN which lies about what it is," he continued. "Its assumptions are liberal. Its news judgment is liberal. There are some exceptions but, internally, it is an absolutely liberal network."
"That's fine, but they lie about it," he added in a continuation of the blistering admonishment of the network he used to call home. "They'll lecture you in the most sanctimonious ways about journalism and their commitment to objectivity, and it's all a lie."
"Give me MSNBC any day," Carlson said.
He had positive words for some of the liberal cable news network's hosts; particularly Rachel Maddow who he described as a "smart" broadcaster. His praise of MSNBC's prime time network personalities ended there, however. When the topic of 8 p.m. anchor Ed Schultz came up – an anchor that he calls a "buffoon" and a "mouth-breather" — Carlson's plaudits ceased.
"I ran into someone that I used to work with over there – talking about the various anchors. And he likes it there and everything, but the worst is Ed Schultz," Carlson revealed. "People who have worked for Ed Schultz says he doesn't even know a single camera person's name."
"Mr. Man of the People won't even talk to his own camera operators," Carlson mocked.
What about his former colleague Keith Olbermann? In 2010, Carlson spoke with Mediaite following his website's purchase of KeithOlbermann.com and had some harsh words for Olbermann who was then the anchor of MSNBC's flagship program at the time. More than two years later, however — and with Olbermann having left or been removed from both MSNBC and an anchoring position at Current TV — Carlson's views on the fiery broadcaster have softened. Sort of.
"I never root for anybody's firing," Carlson said. "I know how much that hurts."
"Keith has a lot of talent," Carlson continued, but he cannot hold a broadcasting position for any considerable length of time because he is "deeply troubled," and "a typhoon of neurosis."
Carlson observed that "he alienates people who want to help him. He hurts himself – it's the same pattern every time. People who hire him imagine he's the answer because he is talented. Then he spirals off into a pattern of abusive, self-destructive behavior."
Carlson went on to praise MSNBC's trajectory and the success they have seen since Olbermann left the network.
As for his own journalistic endeavors, particularly The Daily Caller – the right-leaning journalistic outfit he co-founded — not surprisingly Carlson sees a bright future. Not only because his and other similar websites are "conservative," but because he says they are performing shoe-leather journalism that is anathema to so many legacy media outlets.
"I don't divide news outlets into conservative and liberal – more like honest and dishonest," Carlson said.
He said that homogeneity of culture and background in America's newsrooms has dulled America's journalistic product. "The press is beset by a terminal case of insularity," Carlson said. "Everybody has the same gut reaction to everything. That's a function of culture."
He said if you replaced the average newsroom with the graduating class of Brigham Young University, it would have a huge impact on the product because the assumptions that those journalists make would be radically different. "Would you have six stories a week on gay marriage? Probably not," Carlson observed. "The emphasis would change entirely."
With Cox Media Group's recent announcement that it is getting into the conservative news world with the upcoming launch of Rare, Carlson says he is not worried. The market has already reached saturation point when it comes to conservative outlets publishing "unoriginal, negative op-eds" about the President of the United States, Carlson said.. "I'm not interested in reading screeds."
He also had some harsh words for POLITICO, which removed a top reporter from his beat in 2012 after asking whether Missouri Senate Candidate Todd Akin's statement about rape being less likely to result in pregnancy had any merit.
"As long as there are news outlets firing people for asking questions, we have room to grow," Carlson said. "I would never fire a reporter for asking a question. Don't care what the question is. That's what we do."
Whatever the future holds for right-leaning journalism online, Carlson and his fearless brand of candid self-expression will always have a home on cable news.
> >Follow Noah Rothman (@NoahCRothman) on Twitter
Have a tip we should know? tips@mediaite.com