Mediaite Launches 'Trump Watch' To Hold Cable Networks Accountable For Trump Airtime
Mediaite's 'Trump Watch' To Hold Cable Nets Accountable For Trump Airtime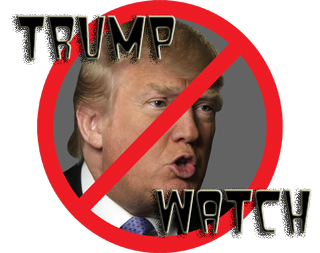 On the heels of Tuesday's fiery Donald Trump birther showdown with CNN's Wolf Blitzer, we here at Mediaite would like to finally hold his enablers accountable (and, of course, then in some meta way, we would continue to be enabling the enablers). It's time for the cable networks to stop giving Donald Trump airtime.
Your willingness to give him airtime is precisely why Trump continues to make outlandish statements on every network within phone's reach. We understand that he is in the news because of the Romney campaign, but even the sharks are complaining that they are tired of being jumped.
The usually-stoic Wolf Blitzer did a fine job of flogging Trump, making it clear that his birtherism is tiresome nonsense. But the mere fact that Blitzer had Trump on the air, despite Trump having no credibility, is maddening even to those of us who report on the reporters.
And so starting today — the first day of what most assuredly looks to be Trump Week — we here at Mediaite begin our official Trump Watch™. Each day, we will take note of how many times each cable network gives Trump the fumes of airtime that serve as his sustenance.
Today's tally seems relatively small — CNN and CNBC are, so far, the only guilty parties. Trump is also slated to appear tonight on Greta Van Susteren's Fox News program. And we have no doubt that in the coming days, many others will cash in their Trump minutes. And we will be there to count the chips.
We will also track how often each network simply mentions Trump. According to TVEyes, on Tuesday, cable news outlets mentioned Trump for a combined 150 times. More than half of those came from MSNBC alone. And the day isn't even over!
Stay tuned for our daily Trump Watch.
This is an opinion piece. The views expressed in this article are those of just the author.