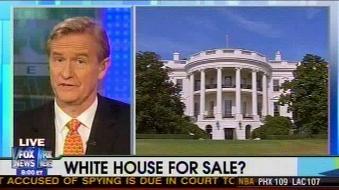 Did you hear the news? Fox News and the White House worked out a truce and now everything is cool between the two sides.
Or not. It's time for another round of Mediaite Oddsmakers to determine where this high profile battle goes next.
For clarification – Politico is reporting the White House reached out to Fox News, and an FNC source says the network will "continue doing what we're doing." So the onus is really on the White House for what happens next…ok onto the odds:
No Real Truce – 2:1 – The most obvious outcome here is the idea a truce was actually reached is complete BS. We know there was a conversation between the two sides yesterday, and something was said. But in much the same way a discussion between Jeffrey Immelt and Rupert Murdoch could only bring a short-lived ceasefire between NBC and Fox News, this one may be over before it begins. All morning on Fox & Friends FNC described the idea DNC donors were getting preferential treatment at the White House with a "White House For Sale" chyron. That doesn't sound very truce-like. And the truth is, although journalists here and elsewhere have written that FNC is benefiting more from the feud, the White House isn't losing entirely – and those on the left like Media Matters and Keith Olbermann have jumped to the White House's defense, certainly satisfying Pres. Obama's base. All it takes is a strongly-worded segment from an opinion host on Fox News, or some harsh words on a Sunday show from a White House adviser, for the feud to be back on, better than ever.
The Beck/Hannity Exception – 7:1 – The two biggest thorns in the side of the White House are Glenn Beck and Sean Hannity (and Rush Limbaugh on radio as well). Bill O'Reilly, the top cable news host, has gone after the White House on occasion but is now seen as a more independent voice. If there is a network-wide dialing back of White House attacks on every program besides Beck's and Hannity's, that could satisfy the White House and lead them to appear on the other shows, like O'Reilly's and during news hours. It's a solution both sides might welcome.
Presidential Access – 10:1 – In exchange for tampering some of the harshest criticism, like the kind that gets people fired in the administration, there could be a scenario where President Barack Obama re-appears on his nemesis network. The high profile interview would occur on The O'Reilly Factor, but it could also be a Sunday show appearance with Chris Wallace or even a White House sit-down with Major Garrett. That type of peace offering could conceivably come without many strings attached from the White House – as a show of good faith.
FOX, More Than Fox News – 11:1 – One of the things the White House has been vocal about is how much it bugs them that FOX, the broadcast network, has stopped airing Pres. Obama's prime time news conferences (Fox News always airs them). The White House didn't deny the decision in part led to Wallace's exclusion during Pres. Obama's Sunday show circuit last month. If there's an agreement that FOX network will air the next news conference, that could then open the communication lines between the two sides as well.
The Campbell Solution – 30:1 – Campbell Brown's solution, which Bill O'Reilly sounded like a big fan of, involves the White House serving as a sort of ombudsman for all of the media, not just Fox News. Maybe they could hire a Media Czar! That would be fun. This plan – essentially calling out MSNBC as much as FNC whenever there is wrong info – is less likely to happen, because it sounds like a lot of work. And why exactly would they want to correct the record to make themselves look worse?
Future Conspiracies – 40:1 – Fox News chairman Roger Ailes is brilliant – so let's throw out some random fun thoughts about what went down between the two sides yesterday. What if FNC agreed to hit any potential Democratic challenger in 2012 harder than Obama, ensuring the sitting President's primary victory? What if the White House agreed to fire Kevin Jennings as a show of victory for Hannity? What if they agreed to call Beck's Mao Hotline? Or…what if the White House agreed to attack Fox News harder, making their ratings skyrocket even further?
Place your bets – this likely isnt' over just yet.
AND VOTE!:

—–
» Follow Steve Krakauer on Twitter
Have a tip we should know? tips@mediaite.com