Mediaite Q&A with Fox's Bret Baier: Five Years of Highs and Lows Anchoring Special Report
Mediaite Q&A with Bret Baier: Five Years of Highs and Lows Hosting Fox's
Special Report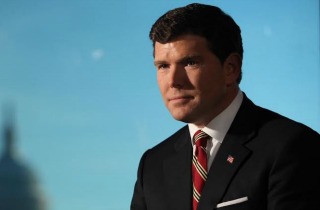 In January 2009, Bret Baier took over for long-time Fox News Channel anchor Brit Hume as the host of Special Report. The program now averages 2 million viewers and regularly ranks as among the most watched cable news programs. Recently, Baier spoke with Mediaite and shared his reflections on the past five years and his thoughts for where both he and Special Report are headed.
Baier began by confiding that, when he took over for Hume, who had occupied Special Report's anchor chair for 10 years, his greatest concern was whether "people would actually watch."
"It was daunting," he confided. "It was like taking over for a legend and an icon who had built this foundation of a show that was clearly chugging along at number one."
Baier added that, while he had covered the Pentagon and the White House for nearly a decade, he was not certain that an audience loyal to Hume would accept him as a legitimate successor. "His main advice was, 'Don't make it about you,'" Baier said when asked if his predecessor gave him any tips for success. "And let the correspondents and the news of the day drive the show."
"Five years ago Sunday, I took over the chair, but before that the foundation was built under Brit," Baier said.
"It's roughly the same structure," he continued. "I think that, over time, the audience learned to trust the show and realize that, if they watched that hour of news, they get all they need and world class analysis."
The show has, however, made some changes since Hume left the anchor desk. Baier now hosts an online program which immediately follows Special Report. "I think that's the future of TV," he said. "Hopefully, we're leading the way there." His show has also added some new features, including incorporating an interactive element by partnering with Bing Pulse. But a feature of the program which has remained largely unchanged are the two segments of political analysis which cap the show, dubbed the Fox All-Star Panel.
Baier told Mediaite that the panel has been such a successful element of Special Report in part because of the strong stable of contributors, but also because viewers say that they "learn something from the panel."
"They take away something they didn't know going in," Baier said, "something that they usually, in all honesty, will use at the water cooler or coffee pot the next morning."
"That panel is organic," he continued. Baier said that, when seeking out panel guests to augment the regular stable of contributors, he looks for "someone who has something new to offer." While the panel is expanding, and the program has recently featured a "center seat" segment in which lawmakers join the panel to be grilled by the dais of contributors, Baier said that he has a special appreciation for the regulars.
Columnist Charles Krauthammer, who Baier describes as his "first baseman", NPR reporter Mara Liasson, The Weekly Standard columnist and reporter Stephen Hayes, Washington Post columnist George Will, Fox News Channel contributor Juan Williams, and The Daily Beast columnist Kirsten Powers came to Baier's mind when asked about the panel's power hitters. He added that the show is "trying to rotate in new faces and people who can, again, bring added value to viewers who I think expect a lot when you get to 6:40."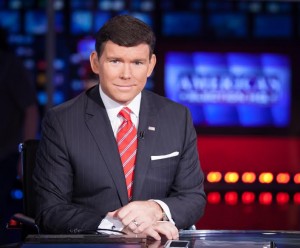 Asked about what he thought were his best and most uncomfortable interviews over the course of the last half-decade, Baier cited the same moment – his interview with President Barack Obama in March, 2010. While he said that his interview with former Massachusetts Gov. Mitt Romney during the GOP presidential primaries was also a career highlight, Baier confessed that he felt that he had no choice but to be more aggressive with the president than he would have preferred in order to ensure that the president revealed new details about the soon-to-be passed Affordable Care Act.
RELATED: Bret Baier Keeps Pres. Obama On Track In Combative Fox News Exclusive Interview
Baier told Mediaite that, after being told that he had a maximum of 15 minutes with the president and watched him deliver a four minute response to one question out of 40, he was moved to become more aggressive with his line of questioning.
"It came to a point where I was either going to interrupt him and say, 'Excuse me' and get an answer, or I was going to not get anything out of that interview as far as substance of what was in the bill," Baier revealed. "Would I do anything differently? Maybe. But I look back on it and think, in the moment, it's what I needed to do."
Baier is slated to spearhead his network's coverage of the 2014 midterms and, after his success moderating Fox's 2012 Republican presidential debates, is likely to take a prominent role moving into the 2016 presidential cycle. "I loved moderating the debates," he confided. "I thought it was one of the highlights of my career so far."
The anchor inadvertently became the focus of controversy in 2011 when, while moderating a GOP debate, a handful of audience members booed a gay solider positing a question to the candidates via a YouTube video. Baier said that the characterization of the entire audience booing the solider – a characterization embraced by the president's political allies — was unfair, but that impression was a natural consequence of the present format of the debates.
Baier observed that holding debates in great halls provides the audience watching at home with a far different view of events than the one enjoyed by debate moderators. He submitted that the conditions GOP candidates encountered in 2012 will likely lead to changes in debate formats heading into 2016. "There are probably too many of them, if you want to be honest," he said. "I think there will be big changes this time around."
The Fox host is ready for another five years after having virtually overcome the great challenge of balancing his career and home life while struggling with his young son's health concerns. After three open-heart surgeries and seven angioplasties, Baier's six-year-old son Paul spent the holidays happily running full speed down a Florida beach.
When asked about how he coped with that challenge, Baier revealed that he recalls the wisdom of his friend and colleague, the late ABC News national security reporter John McWethy.
"He told me that when you go to work, work hard and then hang up your coat at home and leave your work with your coat," Baier said. He said that his son's recovery has made him feel "incredibly blessed" and has given him "perspective on not focusing too intensely on the small stuff."
"There are bigger things that mater and bigger things that matter for families around the country," Baier, who was elected to the prestigious journalists' association, The Gridiron Club, last Friday concluded. "We sometimes get so myopic in the Beltway that we have to remember that perspective is a good thing."
[Photo via Fox News]
— —
>> Follow Noah Rothman (@NoahCRothman) on Twitter
Have a tip we should know? tips@mediaite.com