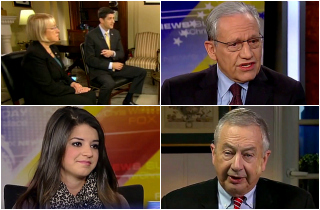 With no one wanting to talk too loudly for fear of knocking over our fragile budget deal—if we break it, we're not getting a new one—combined with the solemnity of the Newtown shooting anniversary (not solemn enough to pass gun control laws, but whatevs), the Sunday shows were a tad muted on Sunday. Paul Ryan's loafers barely made a sound as he went on a truncated victory lap, appearing on only two shows as opposed to a full Chris Christie pentablitz.

What You Missed:
Paul Ryan (R-Dad's Suit), in fact, had the air of an athlete who'd just played his first game after a season-long injury. He's been largely absent from the political debate since being half the odor that stunk up Mitt Romney's (who?) 2012 presidential campaign. The "new" Paul Ryan said words like "bipartisan" and "compromise" and "you can't always get what you want" in the exact cadence as a ballplayer describing how he found new ways to throw now that his shoulder was jelly.
Ryan put on a confident show—probably has something to do with the fact that his side largely won in this budget deal—but I still say he sees this every time he closes his eyes.
Still, lest you think the Zombie-Eyed Granny Starver* has reformed, he quickly came to the defense of outside conservative groups, the type that have longed propagated his image as a deficit-cutting budget maestro (if you buy that, I've got a Yankees second baseman to sell ya), telling House Speaker John Boehner (R-Not Taking It Anymore) to slow his roll:
Ryan's new besty Patty Murray (D-WA) was by his side for that joint interview, but not for the one to Fox News Sunday. Whispers in the wind describe her whereabouts during a Fox appearance as "anywhere else in the world."
What You Didn't Miss:
In the eternally upside-down, endlessly cynical rhetoric of the gun lobby, guns don't kill people, gun control measures do; such was the claim of Larry Pratt to Chris Wallace, who, to his credit, didn't appear to buy it. Pratt went so far as to say that anybody too dangerous to own a gun should be locked up, because that's totally opposite the "tyranny" his people are always wailing about.
Carlee Soto, sister of Newtown shooting victim Victoria Soto, told Wallace that her advocacy on behalf of gun legislation continually renewed the tragedy of her sister's loss, but that it was her sister's absence that made such advocacy so urgent. A juxtaposition of Pratt and Soto did the former no favors.
Winner of the Bob Woodward Reduction Award:
Bob Woodward! (What are the odds?) Woodward shows once again that there's no policy battle too complex or intricate that it can't be reduced down to "Can The President Lead With Leadership By Leading?" This time the answer is "no"; Woodward argued that Ryan and Murray were able to strike a deal because Obama was nowhere near it effing it up.
Of course, if the negotiations had broken down and Obama had been nowhere near it, Woodward would accuse Obama of not engaging Congress and being an absentee president and "how can you lead if you're not in the room?!?!?!?11?!" But you don't win a Woody by being consistent.
John McCain Walks Back John McCain:
Senator John McCain (R-Crankypants) sang "I Regret My Neville Chamberlain Reference" in the key of "Can I Go Now?"
* h/t Charles Pierce
[Image via screengrab]
——
>> Follow Evan McMurry (@evanmcmurry) on Twitter
Have a tip we should know? tips@mediaite.com