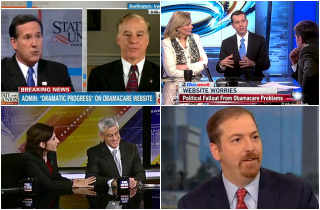 Deadline Day! The White House released its long-awaited report detailing the improvements to the Affordable Care Act's federal exchange website Sunday morning, exactly two months after Healthcare.gov's disastrous rollout, but a tad too soon before the Sunday shows to be the primary topic—your call as to whether that last part was intentional.

Without much time to digest the report, pundits mostly resorted to worn talking points, demonstrating once and for all that the debate on the success of the Affordable Care Act will only really begin now that the website is semisortafunctionalish.
What Did You Miss?
Which isn't to say pundits stopped opining—what're you, new here? According to MSNBC's Chuck Todd, the White House's boast that their crack repair team was working with "private sector velocity" was proof that government blew raspberries when it came to implementing projects. Because the private sector did such a bang-up job with health care that the United States is 37th number one.
Meanwhile, the newest anti-Obamacare talking point is that it's a blind for "income redistribution." (Joe the Plumber was right!) Fox News Sunday's Chris Wallace led the charge, quizzing Neera Tanden, president of Center for American Progress and one of the authors of the Affordable Care Act, on where this health care stuff landed on the Dukakis-Trotsky Socialism Scale of Job Mulchers:
Of course if subsidies give you a wedgie, you've got a problem with our insurance structure in general, as anybody in a group plan is paying an inflated premium to subsidize people (probably your coworkers) older and sicker than you. Maybe Wallace wants single payer?
Meanwhile, David Plouffe argued that President Barack Obama's poll numbers will improve along with the functionality of his signature legislation. Plouffe sounded….a little more confident of what was decidedly spin, at least more so than most Democrats have as the December 1 deadline has approached.
Granted, "former political advisor" is Greek for "spinmeister," so that should be taken with a CMS appropriation's worth of salt, but he was able to defend the ACA's and the president's prospects without looking like he was trying to fit his foot in his ear.
What Didn't You Miss?
David Brooks sports metaphors! "Government is like an offensive lineman. It can do something really well. It can do blocking, it can create order. But when you ask government to be a wide receiver, then you're asking it to do things it can't do…Republicans win elections when Democrats overreach and ask government to do things it can't do."
But it takes a true quarterback to reform entitlements.
Dean v. Santorum, Battle of the Long Memories
Politics has a long memory, a fact driven home when former Vermont Governor Howard Dean and former Pennsylvania Senator Rick Santorum made the shifty-eyes at each other on CNN's State of the Union. Are there two politicians more haunted by peripheral phenomena than Dean and Santorum? One has an a-contextual "scream" that still comes in second in his Google results, and the other has the literal definition of a "Google problem." Both of these guys are reported presidential contenders, which means we could soon see "Scream v. Lube-Runoff 2016: This Time It's Searchable."
[Image via screengrab]
——
>> Follow Evan McMurry (@evanmcmurry) on Twitter
Have a tip we should know? [email protected]