Mediaite's Andrew Kirell Talks Drones On Current TV: 'Never Put Faith In Politicians To Be Jury, Judge, & Executioner'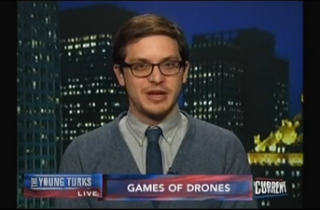 Mediaite's own Andrew Kirell stopped by Current TV today to talk with Cenk Uygur about Senator Rand Paul's filibuster and how it successfully dragged the drone strike program back into the public spotlight. While Paul may have been satisfied with the answer provided by Attorney General Eric Holder, Kirell noticed a good amount of wiggle room in Holder's letter for potential future drone strikes in extraordinary circumstances, telling Uygur that executive power should not be so vast as to trust any politician as judge, jury, and executioner.
RELATED: Eric Holder Sent Letter To Rand Paul On Obama's Authority To Target U.S. Citizens With Drones: 'The Answer Is No'
Kirell acknowledged that for the time being the Obama administration will be held "accountable for a little bit longer." Retired Air Force colonel Morris Davis added that he didn't think it was sufficient for Holder to answer the question in a short letter, saying he wants to hear President Obama himself answer the question of whether the U.S. government has any legal authority to kill citizens on American soil. Uygur said the press has been largely silent about calling the president out, though he did get a question about it during a Google+ hangout.
Uygur brought up the issue of drone strikes abroad, asking if there's really that much of a difference between that and strikes within the United States. Kirell said Paul did not really dwell too much on that during his filibuster, adding that there has not really been a straight answer from the White House on any of this. Davis brought up another concern, that "we don't know exactly who we're killing," and whether or not they have close ties to terrorist activities.
Uygur swung back to the politics of Paul's filibuster and how Lindsay Graham appeared to be saying in his public rebuke of Paul today that the American people need to just "trust the executive" to do the right thing.
Kirell told Uygur, "You should never put faith in a politician to be jury, judge, and executioner." He said that senators like the "thuggish" Graham and John McCain — "who never met a war he didn't like" — don't have any qualms about expansion of executive powers, though he added that Democrats were never really vocal about drone strikes under George W. Bush.
Watch the video below, courtesy of Current TV:
—–
Follow Josh Feldman on Twitter: @feldmaniac
Have a tip we should know? tips@mediaite.com
Josh Feldman - Senior Editor