Mediaite's Andrew Kirell Talks Guns, Legal Marijuana, Ben Carson, And Rutgers Abuse On The Young Turks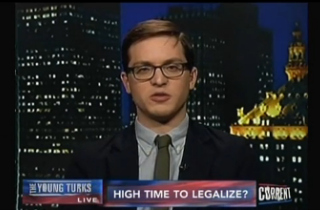 Last night on Current TV, Mediaite senior editor Andrew Kirell took part in a nearly hour-long Young Turks panel that debated some of the week's hot-button issues: Connecticut's strict gun control law, the Pew survey showing majority support for marijuana legalization, Dr. Ben Carson's controversial bestiality/gay marriage comments, and the firing of the Rutgers University basketball coach for physically and verbally abusing his athletes.
Appearing with panelists Joe Williams (former POLITICO reporter) and Professor Tricia Rose, Kirell was the lone anti-gun control voice in the first segment on Connecticut and Colorado's attempts at strict gun control despite the federal government's lack of movement on the issue.
Explaining that he is dispassionate about the gun issue, Kirell suggested it could be a good thing for individual states to experiment with different gun policies as opposed to a one-size-fits-all federal law. Letting the states see what does and does not work "could settle the debate once and for all," he said after explaining how there is no "unequivocal proof" that gun control laws actually have any predictable impact on violent crime rates. Williams and Rose, however, asserted that stronger gun laws are an absolute necessity and, even though it's dissatisfying that it has become a state-by-state issue, at least some are taking a legislative stand.
Watch below, via Current:
In the second segment, Kirell posited that even though the Pew survey finds a majority of Americans favor legalization, it will likely be another decade before the federal government comes around on the issue because "Congress is behind most issues by 10 years or so." To the agreement of host Cenk Uygur and the panelists, Kirell expressed a desire for the media to focus less on questioning the "morality" of smoking marijuana and more on the morality of "a government waging war on its own people, disproportionately so against blacks and Latinos, who don't even make up the majority of drug users."
Watch below, via Current:
While discussing newfound conservative hero Dr. Ben Carson's controversial bestiality/gay marriage comments, Kirell dismissed the charges that "liberal racism" is responsible for the backlash, instead positing that Carson and other heavily-criticized conservatives like Allen West are just as deserving of criticism as white conservatives like Todd Akin who occasionally say "absurd" things. Skin color, he said, has nothing to do with it — especially when there are plenty of well-respected black conservatives like famed economists Walter E. Williams and Thomas Sowell, and former Secretary of State Condoleezza Rice.
Watch below, via Current:
On the subject of recently-fired Rutgers coach, Kirell took issue with conservative pundits defending Rice while having "teary-eyed nostalgia for the days of 'good old-fashioned discipline,'" citing the fact that "greatest basketball player in the world" LeBron James himself tweeted out anger about Rice's conduct, emphasizing that the coach's brand of over-the-top disciplinary measures aren't necessary in creating strong character and leadership skills among athletes.
Watch below, in four parts via Current:
Have a tip we should know? tips@mediaite.com