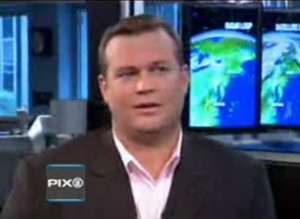 As the controversy surrounding Rep. Anthony Weiner's photographic Twitter scandal continues to swell, Mediaite Managing Editor Colby Hall appeared on WPIX New York's News at Ten, with Jodi Applegate, to lend his own talking head to the proceedings. While most of the spot was devoted to placing the rampant speculation into context, Hall did make a few novel points, such as the possibility that the photograph in question was from a "prior relationship," which would explain the Congressman's current caginess, without the presumption of guilt that accompanies much of the current speculation.

As we've noted here before, rampant speculation accompanied the flood of circumstantial evidence as the scandal unfolded, but much of that speculation focused only on Rep. Weiner's guilt. The more facts emerge, the muddier that issue gets. Rep. Weiner's refusal to say "with certitude" that the picture wasn't of his Member of Congress has led many to conclude that, while evidence (first reported by Mediaite) suggests he did not send the photo, he is guilty of something.
But Hall astutely points out that if someone else tweeted the photo, it could very well have been from a prior relationship, which would make Weiner guilty of nothing more than poor portraiture.
He also touches on the difference between a "hack" and a prank/hoax. Most people understand that "hack" can be a shorthand phrase for any compromise of a computer account, even one that doesn't involve actually accessing said account. Redstate's Caleb Howe and I investigated various claims about image-hosting site YFrog, and found that a third party could easily have uploaded and tweeted the photo, without knowing Rep. Weiner's password, or ever even accessing his account.
We performed several tests, and found that anyone who knew Rep. Weiner's YFrog email address (which any of his acquaintances could have obtained from a forwarded email) could have uploaded and tweeted any photo, without ever accessing, or controlling, his account.
None of this is proof of anything, of course, but if people are going to speculate about Weiner's possible guilt, it is only fair to point out that the sword cuts both ways. The only thing we know for sure is that there's more to this story than meets the eye, and that's saying something, because a whole lot has met the eye.
To his credit, Colby also resisted juvenile wordsmithing antics, although his observations of Weiner's "full-on approach" and answering of questions "head-on" illustrate the rhetorical pitfalls inherent in this story.
Here's Colby Hall's appearance, from WPIX New York's News at Ten:
Have a tip we should know? [email protected]