Mediaite's Colby Hall: 'The Nation Raised Their Eyebrows' At Rep. Weiner When He Could Not Identify Lewd Photo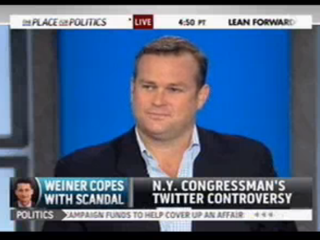 A week into the great Twitter scandal known as "Weinergate," the media have not gotten any closer to figuring out exactly how a lewd photo found its way onto Rep. Anthony Weiner's yFrog account, but certainly theories have been eliminated. Mediaite managing editor Colby Hall joined MSNBC's Alex Witt this morning for a recap of how this story became the top headline this week, how it broke down and where Rep. Weiner and the Democrats may find themselves once the story blows over.
Most of the media– at the time, the handful of bloggers that had caught wind of the story– was left to "speculate reasonably" with little leads, and, during the time frame in which Rep. Weiner himself had not commented, he was given most of the benefit of the doubt. And then he started talking to the media. As Hall explains, it was mostly downhill from there, as "the nation raised their eyebrows" collectively at Rep. Weiner's claim that he could not "with certitude" say the photo in question was not of his bottom half.
The mystery doesn't quite end there, however, as Rep. Weiner's other suspect Twitter followers, some who are underaged girls, seem to not be fully explained. "It's not clear why he has all these young women– or even if he does have them," he notes, though this evidence, once again, is still circumstantial. Ultimately, though, Hall concluded, "I can't honestly imagine that this takes Weiner down," as he is the sort of "firebrand [who] won't take this lying down."
The segment via MSNBC below:

Have a tip we should know? tips@mediaite.com