Mediaite's Joe Concha: Americans Prefer Will, Kate Over U.S. 'Royal Families' Of Bush, Clinton and Kardashian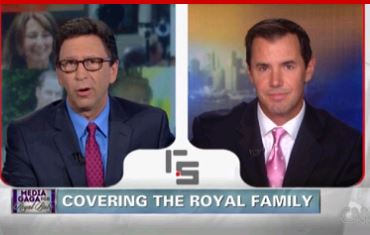 Mediaite's own Joe Concha appeared on CNN's Reliable Sources Sunday afternoon to provide the American perspective on why CNN got the biggest boost from the royal baby coverage, and why the cable news networks will tread lightly in their coverage from here on out.
"Fox and MSNBC got a first trimester bump," Concha said, "just a small one, barerly noticeable. But CNN seemed to put more resources toward the story. They're doing more human interest stories now, particularly during a non-election year. As a result, they preempted, for instance, their 10 p.m. show often, and they doubled their ratings in that slot for a show called Will And Kate Plus One."
"The bottom line is in America, it was embraced," Concha said. "We still yearn for the class of the Brits. The royal families are the Bushes, the Clintons, and of course the Kardashians with special guests Kanye West and North West, so I think we have to go across the pond to get that class and dignity."
The panel also discussed whether the press will be careful not intrude too far into the lives of the royal couple, especially with the backdrop of the invasive bugging scandal that has come to light in Britain in the past two years.
"These two people, and eventually the baby, are so likable, they're like the opposite of the Weiners," Concha said. "Therefore, I don't think the press is going to go after them as hard, because Kate has such sympathy. She's such a likable peson, that family is so likable, that I think coverage is for the most part going to be good."
"You had those Australian DJs that did that prank call that eventually forced that nurse to commit suicide," Concha added. "I think the media is very careful about, 'Hey let's not screw with these guys,' becuase again, they are so likable that we don't want to have any negative coverage, to be seen as harassing them."
Watch the exchange below, via CNN:

—
>> Follow Evan McMurry (@evanmcmurry) on Twitter
Have a tip we should know? tips@mediaite.com