Mediaite's Joe Concha Backs Chris Christie's 'Brutal Candor' with Meghan McCain on CNN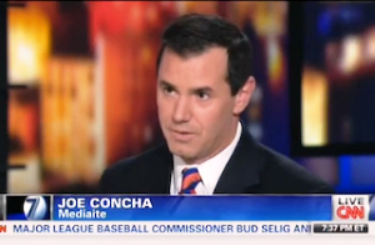 Meghan McCain is "over" Chris Christie and Christie doesn't want to talk about it. The daughter of Sen. John McCain (R-AZ) made her dismissive remarks to Piers Morgan and when Christie was asked about it on a local radio show, he called the whole thing "sophomoric" and refused to "respond to somebody just because of their last name."


Mediaite's Joe Concha joined Erin Burnett on CNN Thursday evening to discuss whether Christie should have responded at all or if it would be more "presidential" to just keep quiet on matters like these.
Concha gave Christie credit for holding the weekly radio show, where he takes questions not only from a host but also from constituents who call in. "He's going to get questions like this," Concha said, "and he doesn't have a filter that he suddenly can turn on. He is who he is."
He added that the reason Christie is currently 34 points up on his Democratic opponent is that New Jerseyans (which is a word, for the record) love "brutal candor" no matter who the target is.
Republican strategist Hogan Gidley said that Christie's "tough guy image" will turn from "tough to petty" very quickly in a national campaign. He advised Christie go grow a "thicker skin" if and when he starts running for president.
Concha got the last word, arguing that John McCain and Mitt Romney lost their elections in 2008 and 2012 because they "played nice." He said whoever runs on the GOP ticket is 2016 will likely be up against the "ruthless" Hillary Clinton machine. "You've got to be able to punch back and Chris Christie is the guy to do that."
Watch video below, via CNN:
[photo via screengrab]
— —
>> Follow Matt Wilstein (@TheMattWilstein) on Twitter
Have a tip we should know? tips@mediaite.com