Mediaite Columnist Joe Concha: Editorial 'Culture' at MSNBC 'Almost Encourages' Bashir's Vulgarity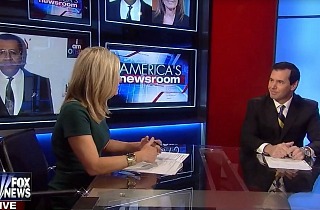 In the wake of MSNBC host Martin Bashir's inflammatory comments in which he recommended graphic and excessive slavery-era punishments for former Alaska Gov. Sarah Palin after the former vice presidential candidate equated America's national debt to enslavement, the fallout continues to mount. Discussing a recent column on Fox News Channel's America's Newsroom on Wednesday, Mediaite columnist Joe Concha said that the editorial "culture" at MSNBC "almost encourages" Bashir's level of discourse.

"It's a problem with the culture over there," Concha began. He added that the events of the last two weeks alone, in which MSNBC hosts Alec Baldwin, Chris Matthews, and Bashir ignited controversy over inflammatory statements, demonstrates this fact.
"Maybe, it's time to go right to the top and say, 'You know what? The president of that network has lost complete control of his troops and something has to change," Concha continued. "Change it from the top. Change the culture. Maybe this won't be happening in the future."
RELATED: Concha: A Year of Poor Decisions Show Why It's Time for a Change of Leadership at MSNBC
"What if somebody here said something equivalent to this about Hillary Clinton?" asked Fox News anchor Martha MacCallum. "Can you imagine the outrage that would be all over the place?"
Concha said that, if CNN host Jake Tapper or Fox News Channel host Neil Cavuto had said anything about Clinton similar to what Bashir had said about Palin, they would not have been yanked out of their seats before the end of their programs.
Concha also observed that the Bashir comments weren't ad-libbed like Baldwin's rant on a Manhattan street outside the network, but written and vetted by producers and added to a Teleprompter beforehand.
"Because Roger Ailes and this network, or Jeff Zucker who runs CNN, they have certain standards," Concha added. He suggested that MSNBC President Phil Griffin does not share those broadcast standards.
Concha added that Griffin may, in fact, welcome the ratings boost that Bashir's program enjoyed on the Monday following his inflammatory comments.
MacCallum ended the segment by asking what happened to Martin Bashir the accomplished documentarian. "He's in a culture now that advocates for this sort of thing," Concha replied, "almost encourages it."
Watch the segment below via Fox News Channel:
[Photo via screen grab ]
— —
> >Follow Noah Rothman (@NoahCRothman) on Twitter
Have a tip we should know? [email protected]