Mediaite's Joe Concha On Fox: Cable News DOMA Coverage Too 'Lopsided' In Favor Of Gay Marriage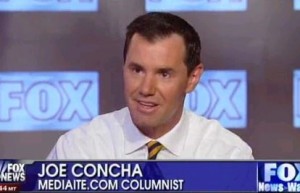 The Supreme Court striking down DOMA was an unquestionable victory for gay rights this week, but the panelists Fox News Watch wondered whether the media was being too celebratory in its coverage of the case. Host Jon Scott contrasted that coverage with the more straight-faced and grim manner in which they covered the Voting Rights Act, not even mentioning that most of it was kept intact. Mediaite's Joe Concha argued that the cable news coverage of gay marriage was way too lopsided in favor of it, when you consider that the public is still very divided on the issue.
RELATED: 'That Means The Constitution Is Gay': A Confused Colbert Laments Supreme Court Ruling On DOMA
Richard Grenell said the liberal media outcry over the Voting Rights Act makes it "look like this is a partisan hack job." He said very few reporters echoed Chief Justice John Roberts' determination that "times have changed" and mocked Al Sharpton for acting like "blacks could no longer vote."
Ellen Ratner added that there was no explanation in the media about the section that was invalidated by the Supreme Court. Scott pointed to word choices like "gutted," which Concha said was a completely misleading word. He called out MSNBC hosts for engaging in mass "hyperbole" over the ruling, while Jim Pinkerton brought up a study finding that CNN's post-VRA guests were overwhelmingly against the decision, while their post-DOMA guests were mostly for it.
Concha brought up a poll showing only a slim majority of Americans backs gay marriage, so the cable news coverage shouldn't be that lopsided. However, Ratner thought the coverage was fair; both she and Judith Miller noted the overwhelming support for gay marriage amongst young people. Concha said that gay marriage will likely gain more support in the coming years, and while he personally supports gay marriage, he said the coverage is just way too imbalanced given the public divide.
Watch the video below, courtesy of Fox News:
—–
Follow Josh Feldman on Twitter: @feldmaniac
Have a tip we should know? tips@mediaite.com
Josh Feldman - Senior Editor