Mediaite's Joe Concha Questions NY Times Sources: 'Anonymity Should be Last Resort'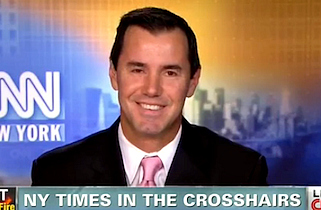 Brand new father (Mazel Tov!) and Mediaite-er Joe Concha joined CNN's Reliable Sources Sunday afternoon to discuss several missteps by the New York Times in the past week, including one incident in which the Gray Lady tweeted that President Barack Obama had rejected a House GOP budget proposal, a claim they stuck by even as the White House and House Republicans refuted it.
"I'd love to hear Margaret Sullivan explain this," Concha said, referring to the Times' Public Editor. "I haven't seen one article from Margaret Sullivan saying, 'Hey, we may have made a mistake here, or if we made a mistake, here's why.' The whole reasons why you hire a public editor—in the Times' case it was probably a PR move, because it was in light of the whole Jayson Blair fiasco about ten years ago—it begs the question: where is Margaret Sullivan in these three cases? If you're gonna have a policeman on your editorial staff who reports back to the public as to why decisions were made or weren't made—decisions weren't made at all this week."
Sullivan had been asked to appear on Reliable Sources, but was either unavailable or declined.
RELATED: In Todd We Trust? Tweet, Don't Verify New Trend in Reporter Race to First
Another Times-related incident this week concerned a story about Edward Snowden, in which the CIA disputed claims the paper had made based on talking to two anonymous officials.
"One rule in [the New York Times style and usage manual] is anonymity is the last resort," Concha said. "It seems more and more at the New York Times you always hear from 'U.S. officials' and 'anonymous sources say.'"
"Another problem is Twitter," Concha continued. "I think we need two editors now at every publication. We always see, again and again, a tweet going out that they want to pull back. Unfortunately, it's like toothpaste, you can't put it back in the tube."
"We saw it a couple weeks ago with Chuck Todd and the Navy Yard shooting," Concha continued. "He put out a tweet and then said, 'Oh, actually it was wrong.' I wonder, did Chuck Todd have to go to the same through the same litmus test with editors to tweet as you would to do a standard report? So I think it's a case of Twitter striking again, and really a race to be first instead of to be accurate."
[Image via screengrab]
——
>> Follow Evan McMurry (@evanmcmurry) on Twitter
Have a tip we should know? tips@mediaite.com