Mediaite's Joe Concha Slams Leno 'Debacle' On CNN: It's A 'Train Wreck' Playing Out 'Like A Kardashian Divorce'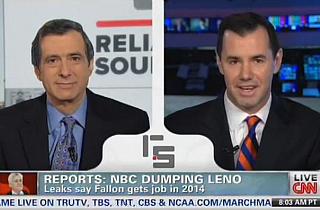 Mediaite contributor Joe Concha appeared on CNN's Reliable Sources to discuss the changes playing out over at NBC, in which late-night host Jay Leno is slated to be replaced by Jimmy Fallon in yet another ugly fight over the network's late-night programming.
Concha branded the switch "insane" because Leno is still the number-one rated late-night comedy host. He also made the case that NBC isn't helping its brand, seeing as the Today show is still a "PR mess."
"The motto on NBC now is, 'Let's get rid of the only guy who's performing well, Jay Leno,'" Concha mocked. "What I don't get about NBC is that they don't burn bridges over there when talent leaves, they napalm them. You remember Keith Olbermann with MSNBC. You mentioned Conan before. Now Jay Leno. It's playing out like a Kardashian divorce."
"The good news for us," he added, "we get to witness the train wreck and it's fun."
After host Howard Kurtz posited that Leno's being painted as the "villain" because the critics and "bicoastal elites" don't like him, Concha concurred, adding "who cares if they don't like him, he's number one in that time slot." The columnist added that perhaps Fallon isn't the best replacement, but rather, NBC should consider a "game-changer" like Tina Fey.
Addressing the conservative belief that NBC is ridding itself of Leno after he made a slew of anti-Obama jokes, Concha set the record straight, calling the accusations "ridiculous" because why would the network get rid of it's number-one late-night host simply because of a few political remarks.
Asked whether this has been a "PR disaster" thus far, Concha agreed, saying "It's consistent with the way the Today show was handled."
"You're saying Leno is being treated like Ann Curry was in the morning?" Kurtz asked.
"Yes, I am," Concha replied.
Watch below, via CNN:

— —
>> Follow Andrew Kirell (@AndrewKirell) on Twitter
Have a tip we should know? tips@mediaite.com