Mediaite's Joe Concha Talks Media Bias, MSNBC Acting As WH 'Infomercial' On O'Reilly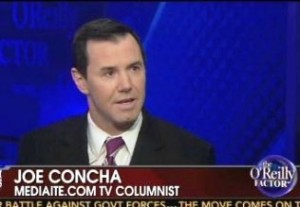 Mediaite's Joe Concha stopped by The Factor tonight to talk media collusion with political parties with Bill O'Reilly. O'Reilly naturally focused more on the Democratic party and his assessment that the mainstream media is essentially in the tank for the White House. Concha found the blurred line particularly disturbing at MSNBC, telling O'Reilly that when liberal hosts remain publicly silent about a private meeting with the Obama administration to push White House policy, it makes the network sound more like a Sham-Wow! infomercial than actual news.
RELATED: O'Reilly-Colmes Family Spat Shows Why There's Fox News…And There's Everyone Else
Professor Jeff McCall agreed with O'Reilly that much of the media is sympathetic to the liberal point of view, but not in a "conspiratorial fashion," saying that journalists are a product of their mostly-liberal environments. O'Reilly argued that a few days after the Colorado Democratic party sent out an e-mail attacking him over a segment he did on Colorado politics, The Denver Post had an editorial with many of the same points.
O'Reilly then turned to Concha, first remarking that Mediaite is full of liberals, and remarked that the bigger issue is when national news networks like MSNBC get in on the partisan action. Concha pointed out that last December, four of MSNBC's primetime hosts were invited to the White House as part of the White House's attempt to sell the public on its economic proposals. Concha found this a rather disturbing blurring between journalism and advocacy, citing a Huffington Post report on what the meeting was about.
"Four words in there stick out at you, right? 'Campaign' and 'sell the public.' When I hear that, I don't hear journalism anymore. I hear Sham-Wow guy. I hear infomercial."
McCall said that while the White House has traditionally sympathetic to them for closed door meetings, he agreed there is a "blurring of the objectivity line" and far more activist journalism going on.
Watch the video below, courtesy of Fox News:
—–
Follow Josh Feldman on Twitter: @feldmaniac
Have a tip we should know? tips@mediaite.com
Josh Feldman - Senior Editor