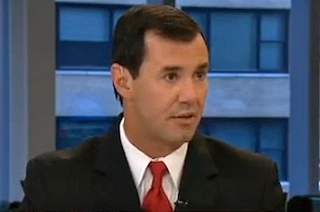 Joe Concha spoke to CNN's Ashleigh Banfield Monday morning about the lawsuit against "Trump University," and "The Donald's" subsequent whirlwind of appearances on the morning shows.
"Everybody loves to book this guy, because he's candid, he's brutal sometimes, particularly when he's taking on an opponent," Concha said. "The Donald is a guy, when he is on TV, is compelling."
Banfield pointed out that all the media attention in the world won't matter in a courtroom.
"This is a 'he said, he said' situation right now," Concha said, in reference to Trump's battle with New York Attorney General Eric Schneiderman. "If I'm in the media, if I'm producing segments right now, I'm on the phone, frantically trying to find these students. I want to get testimonials from them personally. I want to hear whether they're successful or not."
RELATED: NY AG Dismisses Trump: Obama and I 'Have More Important Things to Talk About'
"Hundreds of thousands of students each year graduate from business schools," Concha said. "They're given the tools, if they graduate, to succeed. However, you still have to work hard, you still have to have the right work ethic, and you still have to have some luck, maybe some nepotism, maybe some connections, in order to succeed. Particularly in real estate, you gotta be likable and persuasive."
"I'm not a lawyer," Concha said, "but I don't know how you prove whether this is something that he is being misleading on or not. Either you can sell or you can't."
Watch the full segment here, via CNN:
————
>> Follow Evan McMurry (@evanmcmurry) on Twitter
Image via CNN
Have a tip we should know? tips@mediaite.com