Mediaite's Joe Concha Talks Twitter's Advantage Over News Media On CNN: Boston Made TV Feel 'So Slow'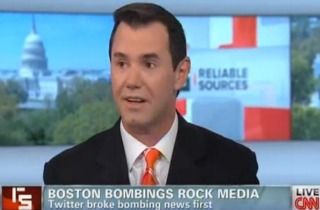 During a discussion on CNN's Reliable Sources, the panel guests riffed on the assertions made by Mediaite columnist Joe Concha who noted that, in times of chaos with events unfolding in rapid succession, Twitter can actually be more beneficial to the public than established media outlets. Concha said that the crisis unfolding in Boston made Twitter feel relevant and up-to-date, while television and traditional news media "felt so slow."

RELATED: In Times Of Media Caution, The Boston Manhunt Proves Twitter The Biggest Threat To 'Old' News
Host Howard Kurtz and Daily Beast columnist Lauren Ashburn went over some of the scoops and images which twitter users were able publish instantly over the course of the week's events, from the instant the bombing in Boston was reported to the eventual capture of Dzokhar Tsarnaev.
"Is Twitter and other social media sites, are they putting pressure on the media?" Kurtz asked. "Are they adding to what the media are able to report? Because, after all, there are only so many journalists in every newsroom."
Kurtz said that Concha had identified a trend in which Twitter has opened the dialogue to millions of people rather than a select few in old media.
"I would say there are now six news networks," Concha said. "There's CBS, NBC, ABC, CNN, Fox, and Twitter."
"And Reddit," Washington Post columnist Erik Wemple added. "We can wonder whether the New York Post would have ever had its terribly irresponsible cover if not for Reddit."
"There was also a huge backlash on Reddit," Ashburn countered. "There were rational people on Reddit and social media trying to calm down the poseurs."
Concha said he was among those urging caution by social media users who were attempting to contribute to the investigation into the Boston bombings. He said that he spent the overnight hours on Friday following the rapidly unfolding events on Twitter in real time.
"But then I went to television and it felt so slow…(later adding) like waiting for a table in a crowded restaurant."
Ashburn called Twitter "the Greek chorus of our day." She added that, for "the McDonalds generation," Twitter is a great tool for "our ADD minds." Ashburn added, however, that the fact that Twitter is not entirely populated by journalists makes any information gathered on that platform suspect.
Watch the clip below via CNN:
> >Follow Noah Rothman (@NoahCRothman) on Twitter
Have a tip we should know? [email protected]
---