Mediaite's Mark Joyella Talks Sarah Palin's Presidential Chances On Aussie TV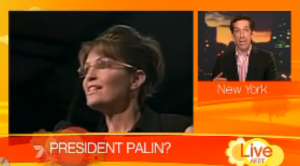 Sometimes it seems like people in the media just can't stop talking about Sarah Palin. And it's not just in America. Recently, Mediaite's own Mark Joyella joined the hosts of Australia's The Morning Show (while it was certainly not morning here) to talk the former governor's chances of ending up in the White House. He pointed out that she's succeeded wildly in the most important part of an American presidential bid; getting your name out there. Well, when the woman's being discussed with great familiarity on a TV show from the other side of the planet, you can't really argue that.
The hosts used Palin's recent interview with Barbara Walters as a jumping off point to discuss her political future:
"She has gotten her name out there in a big way right now. The interview you just mentioned with with Barbara Walters had some of her most forward speaking moments about actually saying she thinks she could beat the president but this is also happening with Sarah Palin; she has a new book coming out, she has a reality show that just set a ratings record on television – it's called Sarah Palin's Alaska – it got five million viewers for its first episode, her daughter is currently entering the final rounds of the dancing show, Dancing with the Stars, and Sarah Palin has been given the honor of creating a word. The American Heritage Dictionary has named 'refudiate' the name of the year."
However, when it came to actually winning the election, Joyella pointed out just how divisive a figure Palin still is, well-liked on the Right, well-very-much-disliked on the Left. It'll all boil down to those important Independents.
Side note: after seeing this clip and Hillary Clinton's interview about potato chips, I'm starting to think we should have all of our political news filtered through the Aussies. Mostly just to hear them add an "r" sound to the end of President Obama's name.
Check out the clip from Australia's Network 7 below:
Have a tip we should know? tips@mediaite.com