Mediaite's Noah Rothman Battles The Young Turks Panel Over Why Fox Is Moving Sean Hannity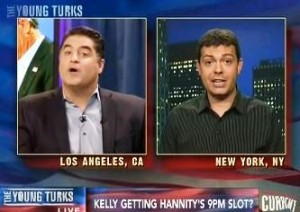 Mediaite's Noah Rothman faced off against Cenk Uygur and the rest of the Young Turks gang on Thursday over the news that Megyn Kelly will be taking the 9 P.M. slot on Fox News, moving Sean Hannity either earlier or later. Rothman pushed back against Uygur's assertion that Hannity is a Republican establishment "robot" who does naught but promote party talking points on his show.
Rothman and Uygur agreed the worst that could happen to Hannity in the shift is that he ends up at 7 PM or 10 PM, but Uygur took this (plus other recent news about Hannity parting ways with a big radio distributor) to mean that he's "losing his power." He argued that of all the Fox News talent, "Hannity is most associated with Republican party talking points," which co-host John Iadarola called "overly antagonistic [and] anti-minority." He said that Kelly's made plenty of controversial remarks too, but suggested no one cares because she's got a "pretty face."
Rothman fired back at their assessment.
"I don't know if you guys really do a lot of watching of this channel, because if Sean Hannity's known for Republican talking points, then you would think he would be supporting Republican leadership. I certainly haven't seen a whole lot of that. He's more of an insurgent type."
He also contended Fox News isn't the talking point machine they think it is. Uygur shot back that Hannity's change of heart on immigration mere days after Obama won reelection was a clear sign he was just going along with the GOP deciding they need Hispanics to win in 2016. Rothman shot back that Hannity could have come to it "naturally," telling Uygur, "Of course that's principle, you want to win!"
Watch the video below, via Current TV:
—–
Follow Josh Feldman on Twitter: @feldmaniac
Have a tip we should know? tips@mediaite.com
Josh Feldman - Senior Editor