Mediaite's Ranking of Best Cable News Show at 9 P.M.: Sean Hannity, Rachel Maddow, Chris Cuomo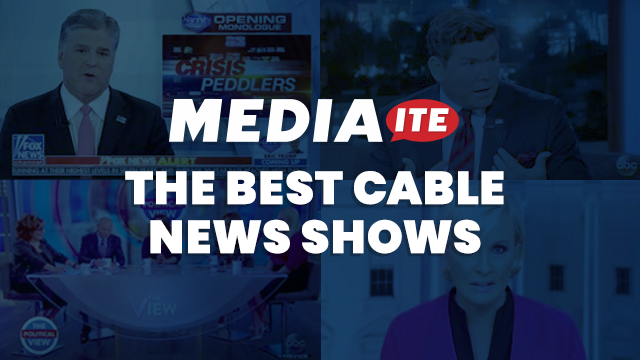 Welcome back to Mediaite's weekly rankings of the best shows on cable news, hour-by-hour. Last week, we picked MSNBC's All In hosted by Chris Hayes as the best program at 8 p.m.
This week is our toughest competition to date. It's the time slot for ratings titans, when the three top hosts on cable news duke it out for audience, guests, and setting the news cycle. MSNBC boasts Rachel Maddow, its signature star. Fox News has Sean Hannity, the reigning king of cable news ratings. And CNN has Chris Cuomo, a time slot newcomer whose show is proving to be one of the best watches on television.
We struggled to come to a conclusive ranking of these three shows. They occupy such drastically different silos of the cable news sphere that it's almost impossible to find common points of measure by which to compare them.
Hannity gets monster ratings, regularly notching more than 3 million viewers, sometimes hitting the 4 million mark, far eclipsing rival Maddow. And thanks to President Donald Trump's loyal patronage of his show and their regular chats, Hannity can legtimately dictate a news cycle just based on the positions he takes.
Maddow, meanwhile, delivers an analytical, often intellectual program that deep-dives into the news her liberal audience wants to hear. The show is Hannity's polar opposite: Comfort food for the #Resistance, but packed with enough reporting and serious analysis to earn accolades (occasionally) from both sides of the aisle. Her ratings aren't too shabby either. Maddow had her best week ever this September, averaging 3.43 million viewers.
Over at CNN, star host Chris Cuomo was moved from morning show New Day into the 9 p.m time slot in earlier this year. It was a natural fit for Cuomo, a cable news brawler with a legal mind and penchant for no-nonsense fact-checking. While his show has boosted CNN's ratings in the hour, he's regularly doubled by Hannity and Maddow. But there's a crucial advantage he has over his MSNBC and Fox News rivals: Cuomo doesn't overtly cater to an audience of people whose minds are already made up (although there is no question that his audience is going to lean more to the left). He covers the news aggressively and interviews figures on the right and left, never straying from a fight. If you're not in the mood to have partisan talking points spoon fed, Cuomo Prime Time may be the show for you.
Mediaite HQ has been crippled with indecision over ranking this hour — so we decided to seek help from our readers before revealing our ranking. We're asking you to vote in our Twitter poll, the results of which will be revealed next week.
A reminder: we have been basing our rankings on a variety of factors, including; ratings, influence, entertainment value, the star power of hosts, the quality of guests, whether the show makes news, and its longevity.
Vote in our poll here:
What is the best cable news show at 9 p.m.: The Rachel Maddow Show, Hannity, Cuomo Prime Time? Our ranking drops this afternoon. VOTE HERE:

— Mediaite (@Mediaite) October 19, 2018
[images via screengrab]
Have a tip we should know? tips@mediaite.com