Mediaite's Sunday Show Round-Up, 'Chris Wallace Sighs for All of Us' Edition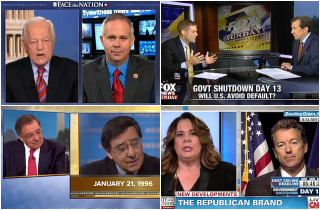 If you missed the Sunday shows, congratulations: you might be in the GOP leadership. The Adults in the Room, such as they are, were nowhere to be seen yesterday morning, leaving the Sunday shows to what might charitably be called the Republican Party's Brat Punk division. John McCain joked that Republican membership was down to "blood relatives and paid staff." The distinguished gentlemen from Planet Defund did what they could to winnow that slight caucus down.
What'd I Miss?
Patience is wearing mighty thin over the small band of lawmakers who have engineered a government shutdown and made breaching the debt ceiling a distinct possibility, especially as thirteen days of their strategy has done nothing but harm the GOP's brand while so obscuring the problems with Obamacare's implementation that the program has actually gotten more popular despite its worrisome rollout. The conservative response to this—"same thing but louder"—is not impressing anyone, an attitude best expressed by Chris Wallace's sigh at 3:26 of the following video:
Wallace was interrogating Representative Jim Jordan (R-Tea Party Express Luggage Compartment) on what he and his buddies actually thought they could accomplish through a strategy that literally could not succeed. Jordan recited a list of semi-discredited Obamacare talking points about the (non-existent) benefits of congressional staffers. "Equal treatment under the law!" he exclaimed, though the Vitter Amendment he's pushing would actually enact unequal benefits, but he doesn't know that…for some reason.
"But you're never going to get that through!" Wallace said, looking like he wanted to smack the jejune lawmaker on his brain-roof.
"We just need to make a better argument," Jordan responded. At that point, Wallace sighed for all of us.
Face the Nation's Bob Schieffer had a similar run-in with Representative Nelson Muntz Tim Huelskamp (R-Stop Hitting Yourself), who refused to even consider the fact that petulantly demanding the delay of the individual mandate might not, like, work. Huelskamp doubled-down by saying the debt ceiling was no big thing so we might as well tie Obamacare to that, too, which is sort of like hitting on twenty-two. Scheiffer did everything short of accusing him of not understanding how a bill becomes a law.
What Didn't I Miss?
Ted Cruz (R-Stop It). The whole reason we're throwing this party was conspicuously absent until he arrived at the "Million Vets March" later in the afternoon. It certainly took the smugness quotient down some.
Oh, and Rand Paul once again read himself into the history of the civil rights movement. He'll do it again, don't worry.
Did Time and Space Collapse on Itself in One Graphic?
Behold the Meta Panetta (TM):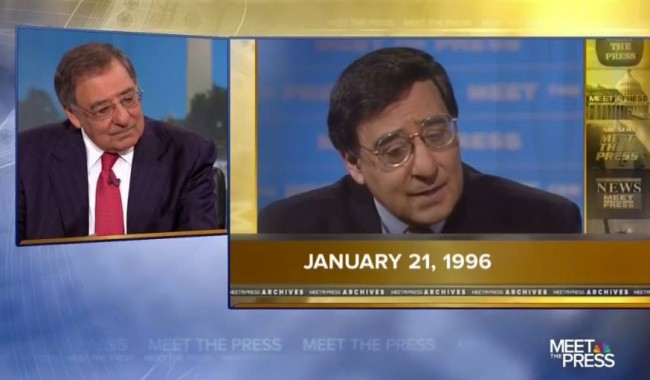 It'd be funny, except for the fact that history is literally repeating itself.
Laziest, I'm-Not-Even-Trying Spin:
After Schieffer told him that Treasury Secretary Jack Lew had predicted dire consequences for default, Huelskamp shrugged: "He said a lot of things." Good call, GOP, on putting all your 2013 eggs in this guy's basket.
Biggest Winner of the 2013 Shutdown:
Box canyons, which received their 15,000th mention on Sunday when Schieffer invoked it in an interview with McCain. Is there a box canyon Twitter account yet? What are you people even doing on the internet?
[Image via screengrab]
——
>> Follow Evan McMurry (@evanmcmurry) on Twitter
Have a tip we should know? tips@mediaite.com