Mediaite's Tommy Christopher On Rush/Hannity: Not Like There's A Shortage Of Young Conservative A**holes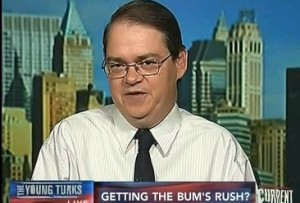 Mediaite's Tommy Christopher joined Cenk Uygur on Current TV Monday night to react to the news that Rush Limbaugh and Sean Hannity are poised to be dropped by a major radio broadcaster. Christopher doubted the lack of conservative talk radio on the national discourse would mean a thing, since "it's not as if there's a shortage of young conservative assholes" on the internet anyway.
Uygur dismissed talk radio as "overhyped," and took the news to say it's "the beginning of the end" for Limbaugh and Hannity. Christopher joked that the only listeners they have "must be people who are dying soon," adding that "the influence of these people on actual earholes is overstated" and they're currently stuck in a "death spiral" of sorts. Uygur noted that "Nobody pulls Oprah in her prime," and so Limbaugh won't ever get pulled for being too offensive, it'll be for low ratings.
Colonel Morris Davis said, "They're the idiot savants of the right wing, and I'm not sure about the savant part." He also joked that their combined net work makes them equivalent to "350,000 tons of manure, but at least manure will make your grass turn green." Uygur tore into the media for buying into what Limbaugh says, expressing the hope that there aren't a lot of under-25 conservatives who listen to talk radio.
However, Christopher offered this little qualifier.
"I don't really share your glee in this, because it's not as if there's a shortage of young conservative assholes."
Watch the video below, via Current TV:
—–
Follow Josh Feldman on Twitter: @feldmaniac
Have a tip we should know? tips@mediaite.com
Josh Feldman - Senior Editor