Mediaite's Tommy Christopher Talks Zimmerman On Current TV: 'There Is A Reason Why Killers Kill Witnesses'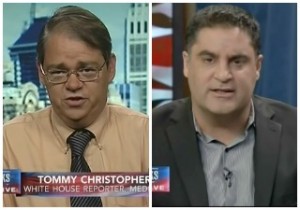 Mediaite's Tommy Christopher joined Cenk Uygur on Current TV today to discuss the fallout from the George Zimmerman verdict and the impact it's had on national conversations on race. Christopher railed against the jury's lack of "common sense" in deciding in favor of Zimmerman, and noted how the only witness to what Zimmerman did is dead. He said, "There's a reason why killers kill witnesses."
Christopher told Uygur that the racial conversation in this country means there are actually people who "can't decide which is worse: cracker or the n-word," and found it striking that people really don't consider someone a racist unless they're burning crosses or go around dropping the n-word.
RELATED: Mediaite's Tommy Christopher Debates Geraldo Radio Caller Who Insists Trayvon Was 'A Thug'
Christopher also made this point to explain why the prosecution had a tough case from the very beginning.
"The only witness to this crime was killed. And that's what made it hard for the prosecution, that's what would make it hard at the federal level to, because Trayvon Martin's dead, he can't speak, he can't say what George Zimmerman said. And that's–I mean, there's a reason why killers kill witnesses."
Uygur found the ruling disturbing because it appears to set a precedent that "anybody can claim self-defense" and will likely get away with it. He bashed "Zimmerman fans" like Ted Nugent and Fox News hosts for "literally rejoicing that this guy got away with killing a 17-year-old kid. Jayar Jackson qualified that they're not necessarily fans, just people like Zimmerman who harbor the same mentality about young black men on the street.
Ana Kasparian found the "thug" description ridiculous since the picture of Trayvon Martin dead on the ground made him look like "a regular teenage kid." But the Zimmerman fans, Uygur pointed out, don't see that; they think "he "he looks like a criminal, 'cause he's black." Christopher tore into the jury, saying that fear "overrode their common sense" because they were so willing to accept that a teenager with a non-violent past suddenly instigated a brawl.
Uygur was less angry with the jury and more so with cops that didn't investigate and the aforementioned Zimmerman fans "throwing a party that he got away with it." Christopher found one silver lining in that aspect of the case, because "all these people celebrating, now we know who they are."
Uygur concluded by declaring that "anyone who calls Trayvon a thug is a racist."
Watch the video below, via Current TV:
—–
Follow Josh Feldman on Twitter: @feldmaniac
Have a tip we should know? tips@mediaite.com
Josh Feldman - Senior Editor