Mediate's Joe Concha: Media Must Hold Administration Accountable for Obamacare Numbers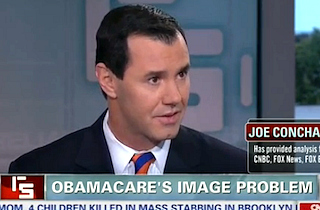 Mediaite's Joe Concha appeared on CNN's Reliable Sources to discuss the media's reaction to the problems with the Affordable Care Act's federal exchange website, following up on his piece examining Sanjay Gupta's interview with Health and Human Services Secretary Kathleen Sebelius.
"What made this interview so effective—it was conversational not confrontational," Concha said. "I think the White House decided on Sanjay Gupta because…they thought, 'Hey, we might get a friendly interview here.' Instead, he asked questions that revealed two major things: one was that she knew the site wasn't ready for launch but went ahead with it anyway; and, oh, when did the president know about this? He didn't know about it until a couple days after the launch.
"This was devastating stuff, and she was so lulled into having a nice conversation, I don't think she realized just how damaging this was to her and to HealthCare.gov and the Affordable Care Act in general."
Fellow panelist Jamelle Bouie distinguished criticism of Sebelius from accountability of the law.
"I don't think firing Sebelius actually gets you anything fixed with HealthCare.gov," Bouie said. "What will help accountability is the media focusing on the problems with the website, consistently. Not just the administration set a new deadline for when everything should be fixed, not just then. This needs to be a beat for a paper or an organization, just following HealthCare.gov and making sure it's living up to its promises."
Concha said that interrogating White House Press Secretary Jay Carney for specific figures from the website was the best tactic.
"He's been asked since day one of the launch, when are the numbers going to come in for who signed up for Obamacare," Concha said. "That has been stonewalled time and again. The White House Press Corps has asked Carney in every form. So finally he said, 'In mid-November, I will get you a number.' So when November 15 comes, if we don't see a number, then the media has to hold the Obama administration accountable."
"If you know page hits, and you know accounts, you probably know the number right now," he continued. "It's probably because it's so low, that they don't want to reveal it at this time."
Watch the clip below, via CNN:
[Image via screengrab]
——
>> Follow Evan McMurry (@evanmcmurry) on Twitter
Have a tip we should know? tips@mediaite.com