Meet George Stromboulopoulos: CNN's Newest Host Who Wants To Bring 'Humanity' Back To American Cable News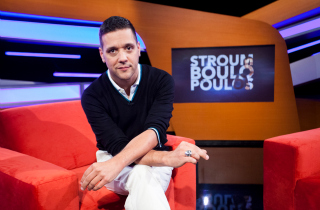 While Fox News remains steadfast in its combination of breaking news and primetime commentary, and MSNBC seems to be rebranding as a full-fledged commentary outlet, CNN's rebranding has been a bit more complicated. As the oldest cable news network is moving full steam ahead with its coverage of breaking news (including the more controversial stories), it has also added a slew of shows entirely unique among their competition. The latest example of that is Stroumboulopoulos.
Hosted by Canadian talk star George Stromboulopoulos, the weekly interview show will continue its leader's formula that had made it so successful in Our Great Neighbor to the North: conversations with pop stars and politicians of all stripes, typically focusing more on "why they do what they do, rather than the particulars of their celebrity."
"If the show was just about serving celebrity, it would suck," Stromboulopoulos told Mediaite. "It's got to be about more. Deeper connections. People who when they sit down across from me, they want to do it."
And so the show will go beyond promoting a public figure's latest gig. "I intend to be the explorer that I like to be with my varying interests," he described of his role. As a result, the first episode (this Sunday at 10 p.m. ET before moving full-time to Fridays at 11 p.m. ET) will feature both legendary comic Martin Short and recent rap star Wiz Khalifa. "Think about that range," he excitedly said. "And it's always, always driven by the conversation."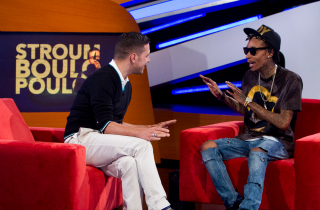 Beyond classic sit-down interviews, however, there will also be conversations out on-the-road. For instance, the debut will feature Stromboulopoulos chatting with Keanu Reeves not from the comforts of a studio couch, but while the actor tinkers with his favorite possession: his motorcycle.
The partial lineup of guests slated for the following weeks proves the rule that Stromboulopoulos intends to be "varied": liberal comic Bill Maher, the elder stateswoman of comedy Betty White, rapper-turned-reggae artist Snoop Lion, and actress Sharon Stone.
And similar to his last job, Stromboulopoulos also intends to grill serious public officials and thinkers. Already under his resumé from the Canadian show are Hillary Clinton, former President Jimmy Carter, the late Christopher Hitchens, and former Canadian Prime Ministers Paul Martin, John Turner, and Brian Mulroney.
"Politicians love to talk, but don't want to actually say anything," Stromboulopoulos joked. "People don't let them be people here in America. They want to pounce on every word. There's no room for nuance or authentic humanism," he said, indicating that he prefers to offer a "fair, level-headed conversation" to political figures, much like his CNN predecessor in Larry King.
"Being outraged about everything, what kind of life is that?" he said of Americans' lust for heated debate. "It's all just noise. I prefer critical thinking because I'm bored with the cynicism."
While many of his political views would be considered liberal — legalizing marijuana, gay marriage, and "equal compensation" for women — Stromboulopoulos isn't concerned about any controversy he might generate like his colleague Piers Morgan has so readily done in the gun debate.
"I want to do the things that are intellectually responsible, emotionally sound," he explained. "And by doing that, you will piss some people off. Somehow, in this generation, they think being offended ends in a comma. But no one has to explain their behavior to you. You can disagree without being disagreeable."
"I don't want to get caught up in jingoism or partisanship," he added.
That reluctance to indulge the partisan whims of American politics is part of what Stromboulopoulos believes will separate him from the pack. That, of course, in addition to his network being the only cable news outlet to give a platform to this sort of studio-based interview show.
"The fact that I get to have my interview show on a news channel, it differentiates," he asserted. "It gives me an opportunity to explore people and ideas in the context of breaking news. Serves larger purpose for the network."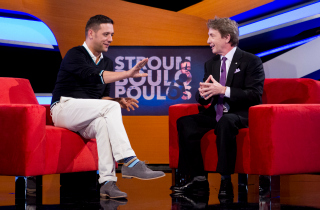 Acknowledging that neither Fox or MSNBC have any shows like his, Stromboulopoulos points out CNN's long history of intimate talk shows: "CNN has always had the tradition of doing this. First there was Larry King, and then Piers continued it. There's a tradition of following the old wisdom that 'the art to this life is empathy.'"
Part of that "empathy" is demonstrating your own humanity on-air, he said. "Who maintains their humanity when they go on the black hole that is TV?" he asked before pointing to NBC's Brian Williams as someone who exhibits compassion on- and off-air.
His own "humanity," Stromboulopoulos said, has been a major part of his on-air image. In fact, back when he first received a gig hosting a CBC show, the network had asked him not to remove his nose ring (which has since been removed, but he still has a pierced ear — the first male in U.S. cable news history?). He doesn't put on a pretense of pomp or formality; his greatest attribute is simply being able to pull conversations about of his interviewees.
That unpretentiousness is why he's able to laugh at himself. For instance, having a similar name to ABC's George Stephanopoulos has resulted in plenty of jokes; but they don't bother Stromboulopoulos. "I'm honored to be mentioned in the same breath as him," he said. "He's a reasonable broadcaster who deals well with partisan politics and great journalism."
"I didn't realize how important it was to have an ethnic name on TV," he pivoted. "When I had my last show, I'd hear from older Greek men who'd choke up and say, 'Your generation doesnt know this, but when we came here, they made us change our names and anglicize them. The fact that you're name is on TV, it's a sign that everybody is welcome to the party.' That's stuck with me a long time."
And that sense of emotional depth and "democracy," he said, informs his outlook on dealing with his interview subjects.
— —
>> Follow Andrew Kirell (@AndrewKirell) on Twitter
Have a tip we should know? tips@mediaite.com