Meet Jonathon "The Impaler" Sharkey, The Vampire Who's Running For President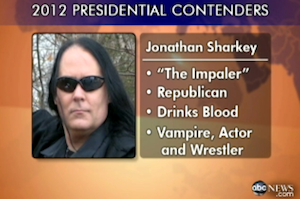 Many people have a problem with our two-party electorate system. They feel that the parties make it impossible for anyone without longstanding political connections to ever have a chance of becoming a leader. And the prominence of those parties mean that Independent candidates are basically just wasting their time. Frankly, one must wonder how fair our democracy is when half of our Presidents seem to be related to each other. That being said, here's a news story about a 2012 hopeful who thinks he's a vampire.
This morning, ABC News took a look at the 76 people who have already filled out paperwork to run in the upcoming Presidential election. The most interesting, perhaps, is Jonathon "The Impaler" Sharkey. Sharkey is a vampire. You can tell because he wears dark clothes and sunglasses and because "The Impaler" hasn't been a popular nickname in like forever.
ABC News has some information about Sharkey's positions and background:
"'Certain criminals, instead of being put in jail, they should be brutally tortured and impaled,' said Sharkey. 'Upon them being found guilty of their crimes I'll beat them, torture them, dismember them and decapitate them.'

Sharkey says the he drinks the blood of his 'girlfriends and mistresses' two times a week and when asked if he believes he has a chance of being elected responded, 'Yes, I have a chance of winning. People like Sarah Palin are making it quite easy to pull off.'"
Ah, that Sarah Palin; inspiring Americans every day.
Now, I don't want to sound biased and just endorse a political candidate, but it's about time we had a contender who we knew wouldn't go soft on werewolves and the growing Werewolfization of America. Just the other day, I read that there were plans to put a Lycanthrope temple a few blocks away from Ground Zero. Is nothing sacred?
Sharkey actually has some political experience too. He ran for Senate in Minnesota back in 2006. Huh, maybe I was wrong. Maybe he was the one who inspired Palin and not the other way around?
Check out the report from ABC News below and the article, which has information on a few more unconventional candidates, here.
Have a tip we should know? tips@mediaite.com