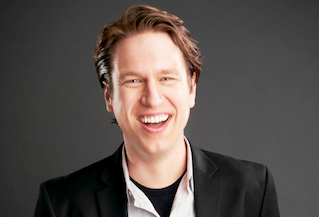 When Conan O'Brien made his big comeback on TBS after prematurely leaving The Tonight Show, there was hope that this could be a different kind of late night show. What would the 6'4" redhead do with this new-found freedom on cable? After everything that happened with NBC, he couldn't possibly just transplant his old show to the new network, complete with topical monologue, celebrity interviews from behind a desk and musical guests to close out the hour, right?
Of course, that's exactly what O'Brien did. It's what he's always wanted to do and just because his Tonight Show dreams were dashed didn't mean he was going to start over. And while he's still capable of some truly hilarious moments, Conan looks pretty much like every other late night talk show on TV. And that's what makes the new Conan O'Brien-produced late night show from comedian Pete Holmes so refreshing.
Holmes is a 34-year-old stand-up comedian (or as he would say, one year older than Jesus), who has two major claims to fame. Most of America will not recognize his face, but if they close their eyes while he's speaking they might realize he's voice of the E-trade baby from all those Super Bowl ads. But to a much smaller, impassioned group of "Weirdos," Holmes is the host of the "You Made It Weird" podcast.
Like Marc Maron's WTF podcast, Holmes conducts one-on-one conversations with fellow comedians. But instead of focusing mainly on his subjects' careers, he engages in lengthy (sometimes 3 hours+), often hilarious conversations about his three favorite topics: comedy, sex and God. And it appears that Holmes just might bring that mix of "riffing bits" and existential dilemmas to late night when his show premieres Monday night at midnight on TBS.
I got the chance to attend the advance taping of the first episode last week and saw in those first 20 minutes of airtime a promising format that has the possibility of really standing out in comparison to the rest of the late night landscape. With a nod to Holmes' history of superhero-themed comedy, the show's cold open was an X-Men sketch that went up on YouTube earlier this month and has since racked up an impressive 2.5 million views:
But it was the monologue that followed that was both the simplest and more revolutionary part of the show. Instead of delivering one-liners about the day's news, crafted by a room full of jaded writers, Holmes used his monologue to introduce himself with his best asset: stand-up. Describing himself as a "lesbian Val Kilmer," Holmes delivered self-deprecating jokes about his wholesome, nonthreatening looks. He then told an extended story about attending an Enrique Iglesias just because he needed some cheering up.
Perhaps it was just because it was his first show, and he felt it was more important to tell some small portion of America who he is than to make jokes about Obamacare. And the fact that, at least at the beginning of the run, they are not taping on the same day the show airs, does not make it easy to be topical. But a major factor has to be that Holmes just doesn't care that much about current events. He's said as much on his podcast many times, often having trouble engaging with his guests about anything that's been in the news and jokingly calling himself a "dummy." His near total lack of knowledge about politics made me wonder how he'd handle the late night format when I first heard he was getting his own show. But it turns out all he had to do was ignore the news and be funny.
Holmes' resistance to politics is even more striking given his former employer in the late night world. Before he moved to Los Angeles, Holmes had a short stint doing warm-up for The Daily Show's audience. The relationship he developed with Jon Stewart was revealed in another video piece from the inaugural episode, which you'll have to wait until the premiere to experience for yourself. Sitting down at The Daily Show desk with Stewart, Holmes asks him if he has any tips before he embarks on his new project. Stewart clearly plays the bullying older brother in this relationship, teasing Holmes about his status as the lowest man on the late night totem pole and promising he'll never get the chance to be an actual guest on The Daily Show.
The next major segment of the show featured an interview that also gave some interesting insight into the future of the show. Instead of featuring a big star, like, say, George Clooney, as his inaugural guest, Holmes welcomed one of his oldest comedian friends and repeat "You Made It Weird" guest Kumail Nanjiani. As Nanjiani joked, there were now two people on Americans' televisions that they almost certainly would not recognize.
Because of their obvious comfort level with each other, the two comedians talked casually about their lives, with plenty of meta-jokes about what it was like to be creating the first episode of the new show in that moment. Holmes even got in one of his existential questions towards the end when he asked Nanjiani what he thinks happens after we die. His guest got one of the biggest laughs of the night when he decided to answer as if his parents were watching, saying, "Islam is the one true religion."
Judging by the lineup of guests over the next few weeks, there will be a lot more appearances by Holmes' comedian friends, such Chelsea Peretti and Anthony Jeselnik, who don't necessarily need to promote anything but can instead have the same kind of relaxed, funny conversations they've had on the podcast. And when they inevitably go long, as the Nanjiani interview did, Holmes can pull a Jon Stewart and send people to his website to watch the extended versions. One outside-the-box guest to look out for during the second week of shows is the guru Deepak Chopra, who's New Age theories will no doubt be right up Holmes' alley.
Throughout the taping, the Pete Holmes who casually joked around with audience members in between segments was not that different from the Pete Holmes who TV audiences will meet for the first time Monday night. There was perhaps a bit more tension, a tad more pressure on off-screen Pete, who knows that this is the biggest break he's gotten in his decade-plus career and the fulfillment of a lifelong dream.
Before the final bit of the episode, which will be familiar to anyone who has attended or listening to his live podcasts, he told his audience he needed them to release those big laughs they'd been saving up. Holmes may not have known he was echoing the words of Joe Biden when he declared, "This is a big fucking deal to me."
[photo via TBS]
— —
>> Follow Matt Wilstein (@TheMattWilstein) on Twitter
Have a tip we should know? tips@mediaite.com