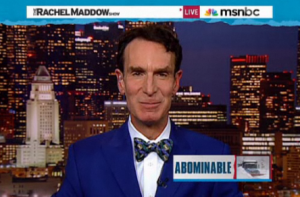 Rachel Maddow takes no prisoners. Infuriated by the gratuitous right-wing jubilation that the massive Northeast snowstorms completely expose global warming as a hoax, Maddow took the liberty of making a series of analogies ranging from basketball to tadpoles to winning the lottery to disprove that connection. Short version of her argument: anomalies exist.
But just to assure the audience that her point was absolutely irrefutable, she brought an absolutely irrefutable personality on the air to agree with her: beloved childhood icon Bill Nye the Science Guy.
Sadly, with the exception of his outfit, there was little of the man who taught a generation the earth's three layers or how to make fossils out of dried sponges in the Bill Nye that visited MSNBC last night. This was an angry science guy, who lashed out against climate change skeptics by calling them "unpatriotic" and expressed frustration that there were people who would refute Nobel Prize-winning scientific research. That's not to say that Nye was shilling for global warming out of pure partisan hackery – it was a positive and possibly necessary thing to see someone so trusted and knowledgeable weigh in on the subject in a sincere manner. He explained in his familiar, comforting manner that, since the theory of climate change is that large-scale trends in human behavior can make weather more unpredictable, the fact that it is unexpectedly cold does not disprove the theory – if anything, it reinforces it.
On the other hand, Maddow's exploitation of Nye's likability to reinforce her talking points is below the status of both an Emmy-winning educational comedian and a respected, albeit partisan, political commentator. If Maddow is comfortable with using the image of Bill Nye the Science Guy, is there any childhood memory she won't touch? Can we expect Carmen Sandiego to make an appearance supporting the Wall Street bailouts, or Shari Lewis of Lamb Chop's Play Along railing against Carly Fiorina's demonizing of sheep?
Yes, Nye is an expert in his field. Yes, he probably has strong opinions on the matter that he should have a venue in which to express. But bringing him out after a montage of basketball YouTube clips put together to humiliate Sean Hannity just seems in bad taste. He is an esteemed, apolitical educator, not a run-of-the-mill talking head.
Nye's appearance on The Rachel Maddow Show below:


Have a tip we should know? tips@mediaite.com