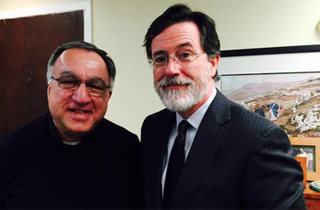 Last night, Stephen Colbert emerged from hiding with a thick, luxuriant, silver beard, and everyone's heads exploded.
Colbert, the honoree from last night's 10th annual Oscar Wilde Awards, made the world freak out when he arrived with his new pet beard, noticeably a very different color from the rest of his hair. (The photo above is from a session a few days ago with Father Thomas Rosica, wherein they plotted their "Lenten practices"). But it's not for the sake of art: as he told The Daily Beast, since he has no contractual obligations to shave before he appears as the new host of Late Night, he decided to grow his beard out because he just wanted to know what it would look like.
"I have not allowed this to happen to my face since college because I've been working professionally pretty constantly since then," he said. "I have like nine months where nobody has to see me so I said, 'I wonder what I look like?'"
There's also an alternative answer: "My show ended two months ago and technically, for the record, I'm not in character. This is me. It turns out the real Stephen Colbert had a beard the whole time, I was just so deeply in character for 10 years you didn't notice. That's how good of an actor I am."
It already has a hashtag (#colbeard). We are following up on rumors that the beard has moved to Havana to write novellas about the cruel vagrancies of time.
Here it is from different angles:
@meredithmo @nycsouthpaw you must understand, the Colbert beard don't stop. pic.twitter.com/CykOOzhixk

— Elamin Abdelmahmoud (@elamin88) February 20, 2015
More Colbeard pic.twitter.com/pLCP1f0wjz

— Ed Bott (@edbott) February 20, 2015
[h/t The Boston Globe]
[Image via Father Thomas Rosica]
—
>> Follow Tina Nguyen (@Tina_Nguyen) on Twitter
Have a tip we should know? tips@mediaite.com