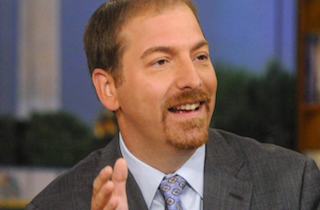 If NBC News brought Chuck Todd on board as host of Meet the Press to help reach more younger viewers, they have succeeded. For the advertiser-scrutinized May Sweep period (April 23 – May 20) Meet the Press was #1 in the 18-49 demo with an average of 623K viewers nationwide. In total viewers, the show still trailed ABC's This Week, but only by a margin of 16,000.
With 2.609 million total viewers and 826,000 viewers in the 25-54 demo, Meet the Press had its best May Sweep period since 2012. Compared to the same time last year, when David Gregory was still at the helm, the show was up 11% in total viewers and up 31% in the 25-54 demo. Its biggest jump came in the 18-49 demo, up 35% compared to 2014.
And just as Meet the Press was closing its gap with This Week to 16,000 viewers in total and 55,000 in the 25-54 demo, ABC's Sunday morning show was the only one to lose viewers compared to the previous year.
When one only looks at the half-hour version of CBS' Face the Nation, which plays in less than a quarter of the country, that broadcast is in the lead with 3.240 million total viewers. But if the full hour broadcast is included, that number drops to 2.584 million, putting the show in third place. Those numbers are unlikely to rise after Bob Schieffer retires this weekend and the relatively unknown John Dickerson takes over.
So far, at least, it does not seem as though the revelations about George Stephanopoulos' donations to the Clinton Foundation have hurt his ratings on ABC's This Week. But as we head further into the 2016 campaign season, Chuck Todd could see his ratings fortunes continue to rise.
As you can see from this Twitter promo for this week's show, Meet the Press is clearly trying to brand itself as the place for presidential politics:
This Sunday, a special #2016 episode of #MTP: @BernieSanders, @RickSantorum, & @JohnKasich. #MeetTheCandidates pic.twitter.com/dno1bQDiHh

— Meet the Press (@meetthepress) May 29, 2015
[Photo via screengrab]
— —
>> Follow Matt Wilstein (@TheMattWilstein) on Twitter
Have a tip we should know? tips@mediaite.com