Meet The Press: Sen. Feinstein Says It's 'Nonsense' That Benghazi Should Preclude Hillary From Presidency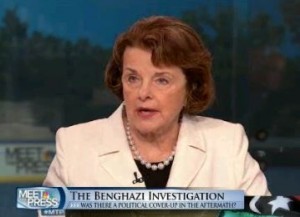 Last week's hearings on Benghazi dominated the Sunday political talk shows, but as a political with hunt, the hearings are turning out to be all stake, and no burning. Senators John McCain (R-AZ) and Susan Collins (R-ME) took turns throwing cold water on the notion that impeachment could be in the cards, while Senator Dianne Feinstein (D-CA) put out the fire under former Secretary of State Hillary Clinton. On Meet The Press, Sen. Feinstein argued that the hearings were just an attempt to target Hillary, and called Sen. Rand Paul's assertion, that Benghazi should preclude her from holding higher office, "nonsense."
Gregory began with a clip of Sen. McCain's February MTP appearance, alleged a politically-motivated coverup of the facts surrounding the attacks in Benghazi.
"Is that criticism warranted, Senator?" Gregory asked.
"Well, I think some of it is," Feinstein replied, but pointed out that "when Hillary Clinton's name is mentioned 32 times in a hearing, that a point of the hearing is to discredit the secretary of state, who has very high popularity, and may well be a candidate for president."
"So I understand Republicans had a grievance because this happened a month before the election," Sen. Feinstein allowed, "And every effort has been made to turn it into something that's diabolical. I don't see that, and if I did, I would say it. But I don't see that."
Gregory asked Feinstein about Rand Paul's comments. "Rand Paul says in Iowa, as he's ramping up for a presidential run, talking about Secretary Clinton, 'It was inexcusable. It was a dereliction of duty, he said. 'It should preclude her from holding higher office.'" Gregory said.
"Well, I think that's nonsense," Feinstein responded. "And I think the American people will think it's nonsense. This is a woman who has devoted herself to the job, who has traveled the earth, who has tried to bring countries and organizations and groups closer together. She's a builder, not a divider."
Sen. Feinstein also expressed regret that "credibility is being lost when these attacks take place, first on the president, now on the secretary of state,"adding that "we have looked into this probably more than anyone in terms of time spent, and our intelligence committee will have a report. And I hope we will put some of these things to rest."
Secretary Clinton also found a defender in The Weekly Standard's William Kristol, who blasted Republican groups for running ads against Hillary.
Here's the clip, from NBC News' Meet The Press:
Follow Tommy Christopher (@TommyXtopher) on Twitter.
Have a tip we should know? tips@mediaite.com