Mega Millions Fever: Secrets Of Seven-Time Lottery Winner Revealed On Fox & Friends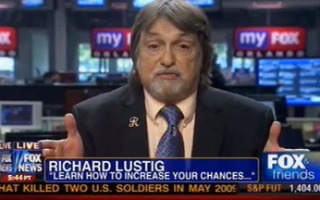 The Mega Millions jackpot is now $540 million, but the grand total could reach $600 million before the eventual winner is selected. The odds are 1.76 million to one that you will win the Mega Millions jackpot, but those steep odds do not stop millions of Americans from trying. To help lottery players maximize their chances tonight, Fox And Friends invited seven-time lottery grand prize winner Richard Lustig to share his secrets.
…But, if you were hoping for some pearl of wisdom that you had not already thought of or a lotto playing strategy that only the pros know from this segment, you'd be disappointed.
"The only thing to do tonight to increase your chances of winning is buy as many tickets as you possibly can," said Lustig. "The most important message I've been trying to get across to America this whole week is don't get lottery fever. Don't spend more money than you can afford to spend."
Lustig says that there may be two or three Mega Millions winners, but there will also be millions of disappointed players who did not hit the jackpot. There is, however, a 90 percent chance that there will be at least one winner after tonight's drawing.
Lustig did advise players not to buy quick picks. He says the randomly generated numbers preclude any sort of strategy, so players always want to pick their own numbers. "By playing a regular set of numbers consistently, the more you play those numbers the better your chances become," said Lustig. Ah HA!
So what does he do with all those winnings? Lustig says he always takes a lump sum rather than a drawn out payment over several years, but he suggests that the eventual winner secure a financial advisor.
So: Who's playing the lotto this week?
Watch the video below via Fox News Channel:
Have a tip we should know? tips@mediaite.com