Meghan McCain To Lawrence O'Donnell: GOP Has Entered 'The End Of The Date With Herman Cain'
Meghan McCain: GOP Has Entered 'The End Of The Date With Herman Cain'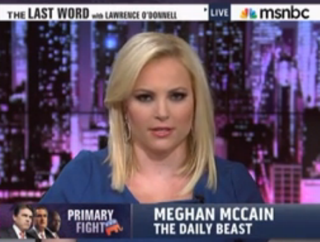 As the Herman Cain campaign seems to spiral increasingly out of control, many in the press are now wondering how this impacts the Republican Party as a whole and who stands to gain from Cain's possible collapse. On The Last Word tonight, Lawrence O'Donnell asked Meghan McCain to assess the status of the Cain campaign as it currently stands, and she has some bad news for him: the speed date is over, and the Republican Party is walking out of the door.
RELATED: Meghan McCain Unfollowed Rep. Weiner On Twitter Because Her Mom Was 'Uncomfortable' About It
McCain was on the program to give her take on the entire primary process, having been intimately acquainted with a Republican campaign in the past, and suggested that the campaigns as we have seen them were something like "speed dating," which she called "unfortunate for the election process, bad for politics, and bad for the Republican Party." Despite the dismay, McCain saw some use to the metaphor– when asked by O'Donnell where along the speed date the Party was with Cain, she called it "the end," walking out the door, on to the next.
RELATED: Cain Campaign Manager: Not Aware Of Settlement Relating To Harassment Charges
McCain also took the opportunity to call O'Donnell out for a prediction he made on the program the last time that she was there: that Tim Pawlenty would be the Republican nominee. "Yeah, because I know the Republican mind," O'Donnell joked, though later acknowledging that he was wrong and that his mistake was due to "presuming the Republican Party was rational." Ultimately, McCain concluded that the game was Mitt Romney's to lose, which O'Donnell agreed to.
The segment via MSNBC below:

Have a tip we should know? tips@mediaite.com