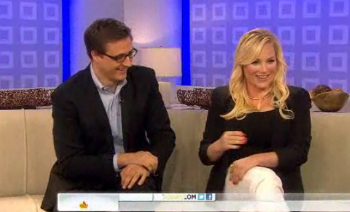 On Monday morning's edition of the Today Show, Meghan McCain and MSNBC weekend host Chris Hayes discussed last week's Obama "the private sector is doing fine" gaffe and the leaks of classified security information, with Hayes concluding that the leaks are a good thing and we need more of them.
Both guests dismissed the notion that Obama's "private sector" gaffe will have a serious effect on the election, with McCain saying that "one sentence won't make or break" the Obama presidency. "That being said," she added, "not a good time to make that statement."
Hayes defended the president's comments, saying that "the word fine, in that context, is like if you fell and gashed your head and it was bleeding and you told your friends 'I'm fine.'"
Host Ann Curry then asked McCain about the leaked classified security information, an issue which her father, Sen. John McCain (R-AZ), as accused the Obama administration of leaking for political gain.
"When there's a leak like this, you have to look and see who is benefiting. And the president is obviously benefiting from this," McCain agreed with her father. "I had a conversation with my father last night. He said it's the worst security breach he's ever seen in his entire career. For me, that sends absolute chills up and down my spine about what we've given the terrorists and our enemies through these security leaks. And whomever is doing this is not putting their country first and thinking about America and the safety of our troops. And that's scary."
Hayes disagreed, saying that "we need more leaks and not less. I actually think we should know how the war is operating and what's going on with a 'kill list' that's operating out of the White House or what covert activities we're engaged in."
"Chris and I will agree to disagree," McCain said, and the two jokingly shook hands.
Check out the clip below, via NBC:

>> Follow Andrew Kirell (@AndrewKirell) on Twitter
Have a tip we should know? tips@mediaite.com